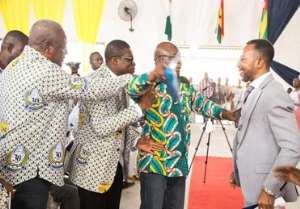 The bodyguard who was spotted in a viral video preventing the loud mouth man of God, Rev. Owusu Bempah from exchanging pleasantries with former President Mahama has been named as Assistant Commissioner of Police (ACP) James.
In a rejoinder press release sighted by WestAfrica24.com, the Ablekuma North Communications Officer of the opposition NDC described the senior police officer as head of security for the flagbearer of the opposition NDC, John Mahama.
"Ghanaians hope H.E Nana Addo Dankwa Akufo-Addo will learn the leadership style of H.E JOHN DRAMANI MAHAMA, instead of attacking journalists like Amed Suale, Anas Arimiyaw Anas, Manasseh Azureh, Adakabre etc. who speak against the high level of corruption under his leadership", part of the rejoinder presser reads.
Below is the full statement;
---

PRESS RELEASE
02/12/2019.Rejoinder:
I write on behalf of Ablekuma North Constituency to first and foremost debunk a false write up in circulation stating that, Rev. Owusu Bempah, a personal prophet of the sitting president H.E Nana Addo Dankwa Akufo-Addo.

This self-styled prophet of God since 2012 have been attacking H.E JOHN DRAMANI MAHAMA on several platforms without any provocation.

On December 1, 2019 during a church service at the Holy Ghost Revival Center of the Assemblies of God church, South Odorkor, ACCRA decided to create yet another scene in the church

The facts are ; H.E JOHN DRAMANI MAHAMA was invited by the church leadership to grace their 30th Anniversary celebration, Rev. Owusu Bempah who has usual disrupted the church protocol to exchange pleasantries with the former president H.E JOHN DRAMANI MAHAMA, before he got to H.E JOHN MAHAMA his personal bodyguard in-charge of his security ACP JAMES who doubles up as a senior security officer, I wish to state emphatically that ACP JAMES is a professional security expert who has never been a member of any NDC internal protocol team as is been label as.

As a humble, tolerant leader like H.E JOHN DRAMANI MAHAMA is, he quickly stopped his bodyguard ACP JAMES and had an interaction with REV. OWUSU BEMPA.

SIGN
THOMAS NII AYI ARYEE
ABLEKUMA NORTH COMMUNICATION OFFICER
Source: WestAfrica24.com