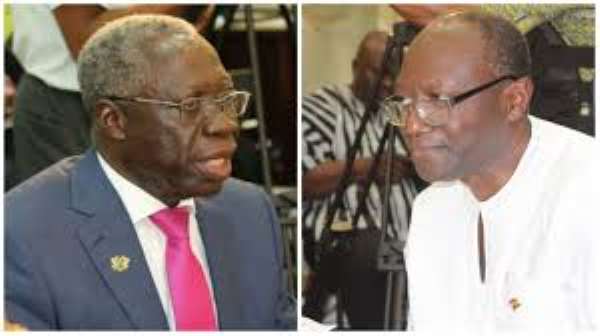 PRESS STATEMENT: SACK SNR. MINISTER YAW OSAFO MARFO AND FINANCE MINISTER KEN OFORI ATTA. PIRAN-GH.
There are many actions or inactions of a minister or government appointee that elicit sacking or voluntary resignation, some of these include misconduct such as theft, dishonesty or immoral conduct that can warrant sack, voluntary resignation or pressure to resign, the actions of this duo require any of the above being sack, voluntary resignation or pressured to resign.
Considering the family and friends bond between the two and the President it will be extremely difficult for him to crack the whip but the President should be bold to sack them for corruption and non-performance.
Most of the high profile corruption cases identify with the NPP and Nana Addo administration has always been associated with the two or their office and it high time the President use then as scape coats to deter others. If the President can Sack a childhood friend and a loyal family member can serve as a deterrent to others.
The finance minister's sale of bonds, PDS, and payment of $ one million dollars to Kroll and Associate for no job done among others are sufficient enough to call for his sack and seemly lack of money in the system for transactive and speculative purposes is as well not showing a finance minister who is on top of his job.
The collapse savings and loan banks and the continued rise of the major trading currencies against our cedi is also not meeting the expectation of many Ghanaians including government party members who think the finance minister is corrupt and not performing to expectation.
Besides, we are not seeing the work of the senior minister and that of monitoring and evaluation, the senior minister is gaining notoriety for negotiating bad loans for and on behalf of Ghana. The first NPP government under Former President Kufour witness an experience where loans negotiated by Mr. Yaw Osafo Marfo under CNTC loan address ended up to be a hair salon and this same person is again working with the finance minister for questionable loans and payment.
Some utterances by the Snr minister on Aisha Huan the galamsey queen and sectionist and tribalistic statements are unpatriotic and unprofessional of a senior minister.
These and many others are enough grounds for the sack or resignation of the ministers in question here.
Yours faithfully
Signed
Felix Djan Foh
President Piran-GH
0244691605