We are living in an amazing period, before our eyes, a new era is emerging in the development of mankind, and the rapid development of technology guaranteeing a better education for children, are being enjoyed worldwide, in both developing and developed countries but not Ghana.
I will give credit to the Government of President Nana Akufo-Addo, for giving Ghanaian parents the opportunity to send their children to school but I want to state it clearly to the Vice President, Bawumia, that already, the educational future of Ghanaian children has been stolen from them.
I don't actually know what Bawumia means by "positioning Ghanaian children with policies and programs to enable them to take advantage of the next industrial revolution," when poverty, lack of education, good roads and medical facilities, have crippled developments and taken thousands of children from the classroom.
On November 5, 2019, I submitted an article captioned "Nana Akufo Addo Must Stop Child Labour In Ghana," even though the Ghanaian law doesn't permit child labour, due to poverty in rural areas throughout Ghana, many parents depend on child labour for survival.
There is child labour in fishing, mining, and agricultural industries in Ghana, of which the Nana Akufo Addo's NPP government hasn't found any solution to eradicate this burden in Ghana, so Vice President, Bawumia, how is your government going to position Ghanaian children for next industrial revolution?
If Bawumia is sincere, he will admit that the developed countries he has visited around the world, treat their animals better than Ghanaian children. Free education doesn't guarantee a Ghanaian child a better future, when thousands of children are under bondage in child labour, while schools in rural areas lack textbooks, tables, chairs, and electricity.
My deepest respect to the Ghanaian teacher, Richard Appiah Akoto, who drew a computer on the blackboard because his school had none, while every developed and some African developing countries, poorer than Ghana, have fully equipped computer class for the students.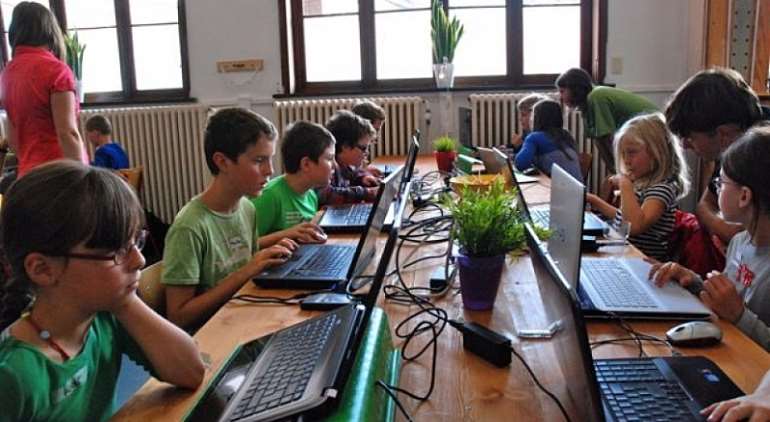 A computer class for school children in Europe
Changes affect each of us and are happening at an incredible rate in all areas of our lives. Things that yesterday seemed unrealistic are already being realized today, yet Ghanaian students continue to suffer throughout their education.
Imagine, students studying music, yet have no musical instruments, imagine a biology or science class without pieces of equipment. How do you expect the students to excel?
Politics in Ghana is so amateur that politicians say amateurish things. Everyone, including children, have the right to education, therefore, Bawumia, to support the education of Ghanaian children, is not a special or significant achievement, instead, give back the future the politicians have stolen from them through endless corruption.