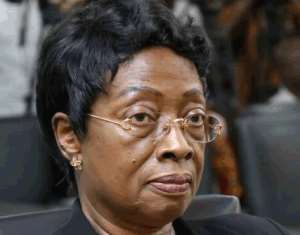 I am looking forward to any future incoming Ghana Chief Justice to announce a request to the Ghanaian public to help him or her to robustly fight the foul-smelling corruption within the Ghana judicial service. The Inspector-General of Police, Mr James Oppong-Boanuh, has taken the lead in the right direction by showing his willingness to exterminate corruption from the police force. He has not only appealed for public cooperation to rout corruption from the police force but also, announced the methods to be followed with relevant phone numbers given.
There is no doubt in the mind of any serious Ghanaian that our court judges, lawyers, court registrars, bailiffs etc., are overwhelmingly corrupt. They do not only accept bribes but are also induced by such offers to commit other serious irresponsible acts unworthy of, and damaging to, the integrity of the Ghana judicial system. There are many confirmed instances where some of our judges have not based their declaration of verdicts on the available credible, permissible and acceptable evidence and facts before them, but on the influence of bribes they have taken from, or on the importance or the elevation of the person to whom, they pronounce favourable judgment. These people declared winners in a criminal or civil suit, in all truthfulness, should have been the guilty party but for our judges acting unethically, the would-have-been innocent party has been denied justice. Shame!
This ravaging corruption within the Ghana judicial system is a fact that the past and present Chief Justices did, and do, acknowledge. However, they had felt, and still do feel, impotent to deal with it. They have all along been looking on, doing absolutely practically nothing to nail this irresponsible practice by the judges, lawyers and the judicial staff, in the coffin. In my belief, they are a total disgrace to the law profession and their more civilized white counterparts in the Western world.
How do Ghana judges justify sentencing a person depriving an owner of his sheep, goat, fowl or a basketful of cassava, plantain or cocoyam, to five years imprisonment while those who embezzle millions of Ghana New Cedis and State assets walk in the streets and drive around the towns and cities in Ghana free persons? Classical examples are Alfred Agbesi Woyome who has duped Ghana out of fifty-one million two hundred thousands New Ghana Cedis (GHS51,200,000). There are Mahama Ayariga and his colleague-parliamentarians who have swindled Ghana of thousands of Cedis over years in what is taking double-salary for same one job of being a Member of Parliament with additional little ministerial duties. The person stealing a chicken (hen) and one stealing millions of Cedis, which one of them must be prosecuted, convicted and jailed?
From my knowledge of the law gained by residing among the Whites, there is no doubt that people like Alfred Agbesi Woyome, the self-styled NDC sole financier, should be the first one to be jailed although, theft is theft as "all die be die". This means the one stealing a hen and the one stealing millions of Cedis are both thieves but there are categories. One is a bigger thief than the other.
As I write, there are High Court and Appeal Court judges that have behaved stupidly unprofessionally, deciding cases based on inducements rather than the credibility of available evidence. I shall soon take the fight to them, name them, tell what they have done and lambast them. These are the types of greedy brassards that give cause to people to revolt to cause further miseries to other innocent citizens.
Do Ghana lawyers, judges and judicial staff understand the enormity of the repercussions of their deplorably shameful behaviour, thus, their fondness for accepting bribes to sell justice to the highest bidder, or to he who has great name and influence in Ghana, e.g. the Asante overlord? Were they taught to seek to perpetuate justice or injustice at the Law School? Were they educated to ensure that fairness, or unfairness, does prevail when they arbitrate cases brought before them or during court trial? Why are these abundant injustices that we see or often hear of coming from our courts? They are the pronouncements of judgments by our Ghana judges.
In a nutshell, Ghana is not progressing economically as a nation and a people because of the attitude of our judicial system. The judges are never ready to promote justice to curtail crimes but are rather promoting wrongdoings by their acceptance of bribes and pampering those with names and riches.
When the masses feel very aggrieved and take a radical decision, no amount of force can quell their anger. History tells us so. Therefore, since corruption is the cause of the economic stagnation or retrogression of Ghana, where the little resources available are embezzled by the few powerful persons spearheaded by the politicians, the failure by the courts to stop it is not helping Ghanaians at all. The situation is exacerbated when the judges themselves get involved in the practice of corruption. Therefore, it is incumbent upon our judges to aspire to do the right thing to make justice prevail. Once people realise it is not by financial or personality influence that determines the outcome of court trials but facts and credible evidence, the crooks and criminals in the country will cease committing crimes.
The Chief Justices will from today onwards emulate the Inspector-General of Police to bring sanity into the Ghana judicial system which in her current state is nothing to write home about. I want to feel proud as a Ghanaian but my pride can only be consummated if the corruption in the country abated with judges being incorruptible, fair and firm in their trial cases.
No, I am not inciting anyone against the judges as I have still not got over the cold-blood murder of my uncle Justice Agyepong, who was gruesomely murdered for his fairness by some rogue military administration headed by Flt. Lt. Jerry John Rawlings on 30th June 1982. He was my uncle by extension of our Agona clanship and my family's closeness and friendship to his. However, the judges cannot be left to pursue their malpractices with impunity. It is about time we confronted them with the truth to compel them to turn a new leaf for the better to bring prosperity to the country and to all Ghanaians.
The Chief Justice is obliged to punish rogue judges while rewarding the good ones. Some judges risk being named by me. They will be put to public trial should they continue to allow themselves to be influenced with bribe and the fear of, or desire to do favour to, some supposedly powerful people or criminal traditional overlords in the country.
The ball is now bouncing in the court of our Chief Justice. What they will do with it is not yet known but time will tell. Nevertheless, the clock is ticking and it may be too late soon. In the meantime, I tip my hat to the IGP.
A word to the wise is enough.
Rockson Adofo
Saturday, 30 November 2019