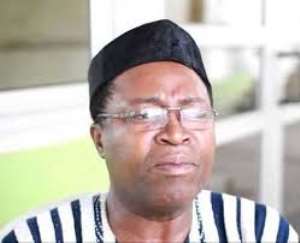 Xenophobia does not help renowned Ghanaian actor David Dontoh's rather pathetic attempt to malign the epic historical significance of the necessary reconciliation of our country with its hideous and heinous slavery past (See " 'Year of Return' Dangerous for Ghana's Culture – David Dontoh" MyNewsGh.com / Ghanaweb.com 11/21/19). The fact of the matter is that the odious institution of slavery had been an integral part of the mainstream cultural practices of the erstwhile Gold Coast, presently renamed Ghana, for as long as anybody can remember. So it is rather absurd for anybody, especially any prominent Ghanaian citizen like Mr. Dontoh, to so cavalierly and scandalously presume that the mature and politically responsible and morally and psychologically therapeutic acceptance and celebration of the temporally redeemed fruits of this ugly past is one on which our contemporary leaders had any choice of whether to embrace or flatly reject, healthily honor or crazily dishonor. We simply cannot cut off our noses to spite our faces, as the good, old maxim goes.
If, indeed, Ghanaians no longer pay attention to "indigenous norms and ethics," as Mr. Dontoh claims, then it is highly likely that these "indigenous norms and ethics" are no longer serving the existential purposes of our present generation of Ghanaian citizens, or perhaps our leaders lost their gumption vis-à-vis the preservation and promotion of our cultural values somewhere along the line. Personally, I have tended to attribute this stygian cultural mess to two of our postcolonial "revolutionary" leaders, namely, the legendary and immortalized President Kwame Nkrumah and, in our own time, Chairman Jerry John Rawlings. Both leaders amply demonstrated how little they had any use for the Chieftaincy Establishment. Indeed, in his largely ghostwritten landmark classic "Consciencism," Nkrumah gave all the visionary and progressive reasons why the institution of chieftaincy needed to be promptly proscribed and thoroughly eradicated, if the postcolonial state of Ghana was to healthily take its well-deserved place among the vanguard ranks of the most civilized nations around the globe.
For Chairman Rawlings, the greatest impediment militating against the salutary progress and development of postcolonial Ghana was Akan Culture, which the infamous Trokosi Nationalist Revolutionary of half-Scottish and half-Anlo-Ewe descent equated with Asante Culture and Asante Personality. So for the 10 years that the Rawlings-Tsikata Diarchy occupied the helm of Ghanaian politics, a well-calculated and systematic agenda was put in place to atrophy – or thoroughly wear down – values represented by the Chieftaincy Establishment as manifested by many an Akan polity or sub-polity in the country. And in synch with the philosophy of one of the most renowned Ewe poets, the self-styled Mr. Dzata Deku "of Africa," "If we cannot, all of us, live in houses, then let us demolish all the houses in this country and live on trees." This is pretty much sums up the greatest single achievement of both the Rawlings-led regimes of the Provisional National Defense Council (PNDC) and the so-called National Democratic Congress (NDC).
Well, if Mr. Dontoh wants to fully appreciate precisely why "Ghanaians no longer pay [studious] attention to [our] indigenous norms and ethics," this is clearly where it all began. The rampant and diarrheal destoolment of Ghanaian traditional rulers who disagreed with the "revolutionary" policies of the Nkrumah-led government of the Convention People's Party (CPP), and the radical and strategic replacement of these legitimately invested "dissident" chiefs with CPP-supporting and sympathizing chiefs, marked the effective beginnings of the thoroughgoing destruction of Ghana and its citizens in the postcolonial era. Interestingly and incidentally, Mr. Dontoh is also known to be a member of a prominent Ghanaian royal family that staunchly backed the revolutionary activities and programs of the Convention People's Party. So it comes as rather bizarre and amusing that he would also be one of the most visible Ghanaian citizens to be publicly and vehemently decrying the vintage fruits of an ideological machine with which he was raised and has been a passionate partisan of for as long as any of us can remember.
On the other hand, it has been adherents of the Danquah-Busia-Dombo school of neoliberal Ghanaian political culture that have always fiercely and doggedly promoted the salutary preservation and inculcation of our indigenous moral and cultural values among our youths, especially as signified by such vintage Danquah-produced Akan literary classics as "Nyankonsem" (Folktales from God), which at one time was required reading in the country's public school system. The simple moral lesson to Mr. Dontoh, an old friend and acquaintance of mine, here is that "You simply cannot eat your cake and have it all within the same breath as well."
*Visit my blog at: kwameokoampaahoofe.wordpress.com Ghanaffairs
By Kwame Okoampa-Ahoofe, Jr., PhD
English Department, SUNY-Nassau
Garden City, New York
November 25, 2019
E-mail: [email protected]