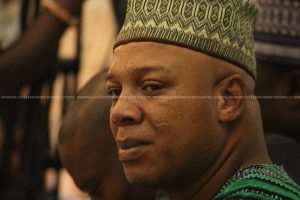 Mutawakilu
To say the least, the call by the so-called Ranking Member (an obvious American copycat designation) of the Parliamentary Committee on Energy for last Tuesday's power outage that occurred in some parts of the country to be investigated by President Addo Dankwa Akufo-Addo is patently and inexcusably absurd, to say very little about the downright scandalous. The name of this cynical operative of Ghana's main opposition National Democratic Congress (NDC) is Adam Mutawakilu; and he is as weird as hell and Satan like the rest of the NDC's hoodlum pack, a kleptocratic team of robber-baron scam-artists that is risibly chaperoned by former President and presently the morally spent and politically effete Candidate John Dramani Mahama (See "Mutawakilu Wants Tuesday's Dumsor Investigated" Modernghana.com 11/27/19).
One would have logically thought that Mr. Mutawakilu would call on Nana Akufo-Addo to investigate the Mahama Guinea Fowl Scam and Heist, in which billions of cedis of the Ghanaian taxpayer's money was invested in some Burkinabe-produced birds, meant to boost poultry farming in the northern-half of the country that, predictably, never happened. The then-President would later tell the nation that all these hundreds of guinea fowls had suddenly backed out of the decision to have them reside in northern Ghana by returning to Ouagadougou, the Burkina Faso capital, for a permanent vacation. Maybe this is the sort of Mahama Legacy for which Mr. Kweku Baako recently chided Vice-President Mahamudu Bawumia for rudely refusing to acknowledge. But, of course, what is even more scandalous is the snooty grandstanding of a man whose Mahama-led National Democratic Congress's regime visited unrelenting Dumsor or complete power outage or blackout during all the four-and-half years that the man virulently described by the founding-father of his own party as the most corrupt politician and leader of Fourth-Republican Ghana was at the helm of our beloved country's affairs.
You know, the first thought that crossed my mind was the fact of why the same morbidly self-absorbed and pathologically cynical politician now bitterly complaining about a three-hour partial power outage across some parts of the country would now be calling for an investigation into a patent nonissue but none, whatsoever, during all the four-and-half years that Ghanaians were literally and callously plunged into stygian Stone-Age Darkness, a technologically advanced age blight that also witnessed the total collapse of more than half of all privately owned Ghanaian business enterprises.
It was also nothing short of the inexcusably asinine for "Comrade" Mutawakilu to facilely presume to kick a fuss over a purported problem with fiscal insolvency, when even one of the major energy distributors, the Ghana Grid Company (GRIDCo), has given emphatic public assurance that Tuesday's partial power outage had absolutely nothing to do with fiscal insolvency on the part of the Akufo-Addo Administration. Which, of course, is absolutely not in any way to imply that the country's energy supply network is not beset with its own peculiar set of standard/normal operational problems. To be certain, even here in the United States, which has one of the most efficient energy generation and distribution systems in the world, there are glitches here and there from time to time. It is one of the shortcomings that are invariably associated with any system or mechanism built and operated by humans.
Well, in the case of the Mahama-supervised four-and-half-year marathon season of Dumsor, the obvious cause of the problem was gross and sheer incompetence of a political remediation student whose low intellectual caliber and abjectly scandalous leadership incompetence was simply incurable and irreparably without compare. If, indeed, there are fiscal "liquidity challenges," as Mr. Mutawakilu insists that there are, and the critic is also cocksure about what he vacuously and farcically claims to be the withering administrative incompetence of President Akufo-Addo, then what the Damongo NDC-MP ought to be doing is to be calling for Ghanaian voters to return the man who made "Dumsor" the number-one trending vocabulary word in the Dictionary of Energy-Distribution Deficiency, rather than calling on the very leader that Mr. Mutawakilu claims to be the least capable of solving the country's nonexistent energy-supply problems to step up to the proverbial plate and do just that. I mean what kind of logic is this? A "Mutawakilian Logic" or plain stupidity?
*Visit my blog at: kwameokoampaahoofe.wordpress.com Ghanaffairs
By Kwame Okoampa-Ahoofe, Jr., PhD
English Department, SUNY-Nassau
Garden City, New York
November 27, 2019
E-mail: [email protected]