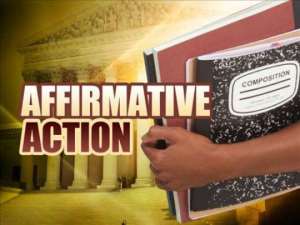 Mrs Efua Edith Chidi, the co-convener for the CSOs Cluster on Decentralisation and Participation has attributed the delay in the passage of the Affirmative Action Bill to some deliberate efforts at various levels to frustrate activists and advocates of the law.
She made this remark at a press conference organised by the group at the International Press Center, Accra.
According to her, there seems to be little political will to pass the Affirmative Action Bill into law after over a decade of its acceptance.
She noted that several governments have promised to take measures to implement the bill but have all remained as political promises.
"It will be in the interest of Ghana if the AIB is implemented because history has shown that when women and men work together, development is fast consolidated," she noted.
Affirmative Action is a policy that seeks to remove all forms of barriers in the path of women which obstructs their progress, inclusion and participation in the development of the country.
The Bill has been in cabinet for the past 13 years awaiting passage and implementation by parliament.
In the light of international law, domestic commitments and in respect of the fundamental human rights of women, the CSOs Cluster on Decentralisation and participation will continue to use the various legal channels available to persuade government to take the necessary steps to pass it into law.
It is at the backdrop of this, and the many other legal obligations required of Ghana, including international laws such as the Convention and Elimination of all forms of Discrimination and Abuse against Women (CEDAW) that women activists continue to pressure for government to live up to expectation.
Background
Ghana ratified the Convention in 1986, and by so doing undertook to adapt its legislation as well as introduce new ones where necessary n order to translate the rights contained in the Convention into reality for Ghanaian women.
Among the policy measures needed to be taken upon ratification of the Convention, as embodied in Article 2 are:the abolition of all existing laws, customs and regulations that discriminate against women; and the establishment of institutions to protect them against discrimination.
As already noted, by ratifying CEDAW Ghana made a commitment to take all necessary steps to eliminate discrimination against women both in public life, and in private life.
Women constitute more than half of Ghana's population (51.2%). The woman's role and status are recognizably inferior to those of the man in almost all aspects of social, political and economic life. Custom, law and even religion have been used to rationalize and perpetuate these differential roles to the extent that women themselves seem to have accepted and internalized them. It is worth noting that the legal frameworks of the country give equal opportunities for both men and women to register to vote, to exercise their franchise, and to stand to be elected as presidential candidates, members of Parliament or Assembly representatives in both local and national government structures.
In the African Human Development Report (UNDP, 2016), women's political voice and leadership has been recognised as a key driver in advancing gender equality. Women's political participation and representation in governance according to the report, have long been taken as key indicators of the general level of public sector effectiveness and accountability in a country. When more women are involved in politics and leadership positions, women's rights, priorities, needs and interests are less likely to be ignored or silenced.
The United Nations Sustainable Development Goal 5 also acknowledges this fact and therefore has a target to "Ensure women's full and effective participation and equal opportunities for leadership at all levels of decision making in political, economic and public life".
Ghana is a signatory to various regional, continental and international frameworks and has pledged in various forums and platforms its commitment to promoting gender equality and women empowerment. For instance, Ghana has signed and ratified the Maputo Protocol to the African Charter on Human and People's Rights on the Rights of Women in Africa and has pledged its commitment to support the advancement of women in the continent, as well as the African Charter on Democracy, Elections and Governance.
Articles 8, 29 and 43 of the charter mandate Member States to adopt legislative measures to guarantee the political rights of women, create necessary conditions for their full and active participation in decision making processes and structures at all levels as a fundamental element of democracy, and to encourage same in electoral processes. Member states are also to ensure gender parity in representation at all levels including legislatures and take imperative measures to educate women to be able to perform their roles as political leaders and decision makers.