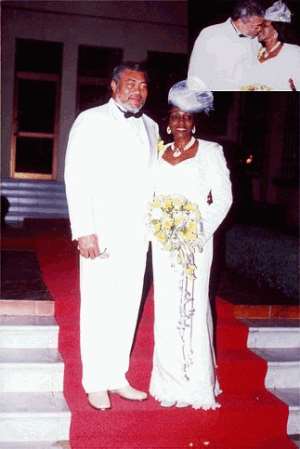 Former first lady Nana Konadu Agyemang Rawlings says the restoration of state privileges and courtesies by government will not make any difference to the lives of the former first family.
The privileges which include travel courtesies were withdrawn about four years ago following what the government said were extreme provocation and utterances against the NPP administration.
But they were restored yesterday in a statement signed by the foreign minister, Nana Akufo Addo.
Speaking with JOY FM this morning, the former first lady, Nana Konadu said the former President was yet to receive a formal notice on that.
She said, although she could not speak for her husband, the gesture is not in good faith because considerable amount of pressure has been brought on the government to restore them.
"I don't think he needs it. They took it away and they can keep it. We meet at international conferences, and they see how my husband is treated so they are embarrassed. We know there have been pressure from the UN, AU, EU and other agencies. They are not doing it on their own accord, she said.
Information minister, Dan Botwe however insists the restoration of the courtesies is a show of government's commitment to reconciliation.
He told JOY FM that even though the former president has a right to criticize the NPP administration, it is expected that those utterances that forced the government to withdraw the courtesies would not re-occur.