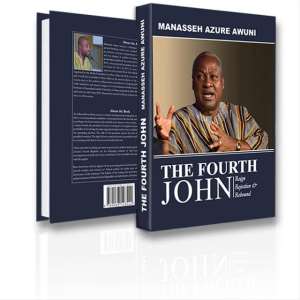 V. L. K. Djokoto's statement on the launch of 'The Fourth John: Reign, Rejection & Rebound':
Congratulations to Manasseh Azure Awuni on the launch of his book, titled, 'The Fourth John: Reign, Rejection & Rebound'. It was a great pleasure and privilege to have attended the launch at the Christ The King Parish hall yesterday. I must also mention that Efo Senyo's Borborbor Group did a good job at lighting up the mood during the launch; it was a great display of Eʋe culture.
When I found out that Manasseh was going to release a book, I was instantly excited: as a journalist with a focus on history and politics, I was happy that a member of the fraternity - a man who had distinguished himself in the field of investigative journalism for that matter - had uncovered an important period of history which, without the slightest doubt, will serve as a timeless literary reference for academic studies.
I cannot wait to go through it with a critical lens; and, as an avid reader and lover of literature, I certainly cannot wait to savour Manasseh's style of writing too.
Kindly grab a copy of his book!