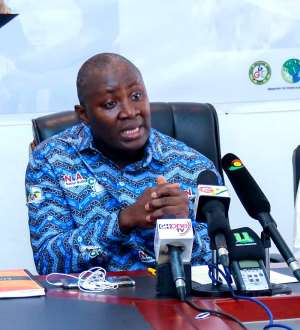 The Chief Executive Officer for Nation Builders Corps (NABCO) Dr. Ibrahim Anyars and his National entourage visited the Ahafo Region for a workshop to build the capacity of all the NABCO Trainees in the Region.
The workshop was held at the Ahafo Regional Coordinating Council, GOASO.
Hon. Evans Opoku-Bobie was honoured and commended as the first-ever Regional Minister to participate in the NABCO workshop. The Trainees applauded the Regional Minister with an Ecstatic rousing gesture.
The hardworking Ahafo Regional Minister, Hon. Bobie appreciated the Trainees for their immense contributions towards Nation Building.
He urged them to keep on praying for the president of the Republic Of Ghana, H. E. Nana Addo Dankwa Akufo-Addo for initiating this programme for the first time in the history of Ghana.
The hardworking Ahafo Regional Minister advised them to utilise the opportunity that has been offered to them as NABCO Trainees.
He urge them to make sure that, the society will benefit from the requisite skills they have acquired through the NABCO programme.
Hon. Bobie emphasised on a rounded pricket of the government's commitment towards the total development of this Country and empowering the youth to occupy the job market to accelerate the industrialization agenda by the current NPP administration.
He stressed that ONE GOOD TERM OF NPP DESERVES ANOTHER TERM as NABCO is evidence from the one good term.
The C.E.O. of NABCO entreated the Trainees to value Knowledge, Punctuality and Integrity.