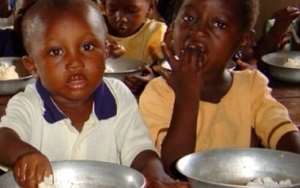 File photo: The Ghana School Feeding Programme (GSFP) seeks to enhance food security and reduce hunger
Some 2,320 caterers and head cooks under the School Feeding Programme in Oti and Volta Regions have undergone a day's capacity building training on best practices in cooking.
The training, which was sponsored by the World Food Programme, is aimed at equipping the caterers on new ways of cooking nutritious meals using local food stuffs for beneficiary school children while maintaining the quality of the meal served.
National Coordinator for the School Feeding Programme, Dr. Gertrude Quashigah said there is a direct correlation between quality meals served children, mental development and academic performance.
This she says, called for the training of caterers to sharpen their skills and keep them abreast with best practices.
"Most caterers tend to look for foodstuffs outside their localities, which add to the cost of feeding the children which the secretariat is trying to put an end to," she said.
Volta Regional Coordinator of the For Women in Agriculture, Agnes Dzigbordi Aku Nyamalor Fiakpui underscored the importance of the training since it equips the caterers with new ways to cook nutritious foods as well managing a clean environment.
The Oti regional Minister, Akwesi Owusu Yeboah urged the caterers to put the training in constant practice so as to provide the children with the best foods.