The management of Kwame Nkrumah University of Science and Technology's (KNUST) has donated 560 pieces of brand new customised smart laptop computers to 74 selected less privileged senior high schools (SHSs) as well as basic schools in the country.
A statement issued by the KNUST said the donation acts as the university's contribution to improving information and communications technology (ICT) education in the country.
Vice-Chancellor, KNUST, Professor Kwasi Obiri-Danso said that it is the responsibility of the KNUST to ensure that students admitted into the university have the knowledge and ability to utilise computers and related technologies efficiently and that is why there is a need to prepare school-goers before they enter higher education.
He explained that the donated laptop computers will help them learn a range of skills from learning elementary use of computer programs to advanced problem solving.
"As the world is driven by science and technology, it has become very vital that the university contributes its widow's mite to assist less privileged schools in their quest to match the growing standards of ICT education," he said.
Commenting on other interventions put in place to support students from deprived backgrounds, Prof Obiri-Danso announced that Mastercard Foundation Scholars Program at KNUST has awarded 750 comprehensive scholarships to persons from less privileged schools to enable them to access quality and transformative university education.
He therefore, advised headmasters, and teachers from less privileged schools to encourage their students to study hard in order to benefit from the various scholarship schemes and other opportunities available to brilliant but financially challenged students in KNUST.
Presenting the laptop computers to the recipients of the selected schools, Prof Obiri-Danso applauded the good work done by the heads and teachers across the country for their selflessness.
He observed that though teachers are often looked down upon by society, all professionals owe them gratitude.
He said without teachers, there would be no doctors, engineers, pharmacists or other professionals.
He charged teachers not to waver in their determination to build a better society.
Applauding the government for introducing the Free SHS Policy, Prof Obiri-Danso said the policy was a good one, which needs the support of all Ghanaians irrespective of their political affiliation; stating that "it is better to educate a society without jobs than to have an illiterate jobless society."
He believes that an educated people could help create jobs for themselves and others; making the society a better place.
Receiving the items on behalf of the schools, Headmistress of Akomadan SHS, Sylvia Nelson, representing the Regional Director of GES, thanked the university for supporting the less privileged schools in the country.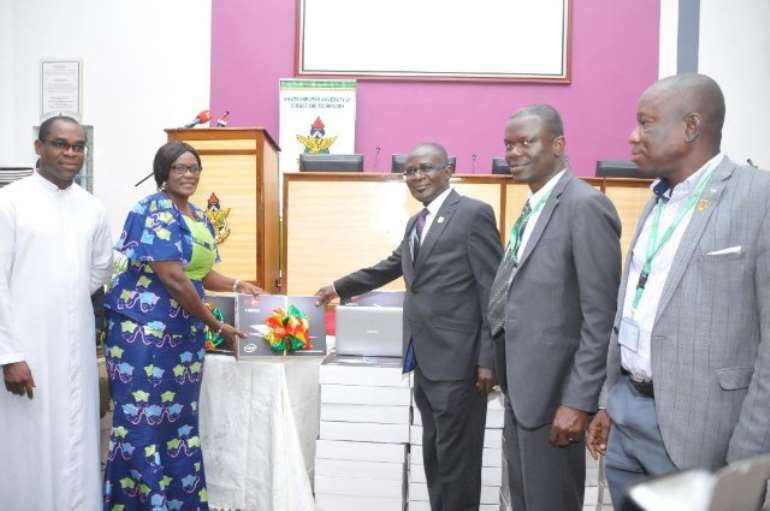 She hopes that KNUST would continually support and contribute its quota in the shaping of the future generation.
Other individuals in the education sector, present were Registrar of KNUST, Andrews Kwasi Boateng, College Provosts, College Registrars, Directors, Deans, Head teachers and ICT teachers of the selected less privilege schools.