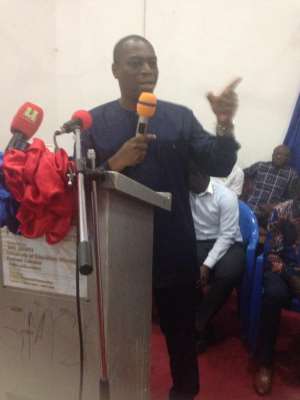 The Prestigious Awards and Homecoming 2019 Programme organised by the Tertiary Students Confederacy (TESCON) of the New Patriotic Party's (NPP) branch of the University of Winneba, Kumasi campus (UEW-K), under the theme; "Re-Energizing, Re-tooling & Re-Positioning TESCON UEW-K For Victory 2020 and Beyond," attracted lots of dignitaries, students, current and former TESCON members, and staunch members of the NPP in the Ashanti region and across the country.
As part of the NPP's stalwarts who graced the Programme which was held on Sunday, 24th November, 2019 at the institution's new auditorium was Dr. Kingsley Nyarko; Executive Secretary of the National Accreditation Board (NAB), who was invited as a Guest Speaker to address the audience and also partake in other activities of the programme.
Addressing the audience in the packed conference hall with a highly charged, enthusiastic and ecstatic crowd, Dr. Kingsley Nyarko, the Executive Secretary of National Accreditation Board said it was about time the National Democratic Congress (NDC) brushed aside their partisanship and parochial interest when it comes to bipartisanship discourse so that we can project national interest for a better future and national development.
He therefore advised the NDC to backtrack from their current stance of a 'No' vote, embrace their previous position of a 'Yes' vote for the sake of the bigger national interest.
Furthermore, Dr. Nyarko admonished the rank and file of TESCON to be the torchbearer for the 'Yes' Vote campaign for the December 17, 2019 referendum, and lead the clamour for the campaign in all areas across the country since a 'Yes' Vote will bring about a multi-party democracy at the local level which will take away the winner takes all and other forms of impediments of the local level development. "A YES vote will further make the elected MMDCEs accountable to the people and bring innovation, creativity and ingenuity in our local governance."
He noted that it was also a responsibility on them to be lead advocate because it is an inherent duty of theirs to always stand for and defend the positions and ideology of the party.
Dr. Nyarko pointed to a misconception led by the NDC that the President lied in relation to a statement that a 'Yes' Vote will lead to an election of MMDCEs.
Finally, he counselled the TESCON members never to give up with their struggles and sacrifice as the student's wing of the party because the party has always been grateful to former members of TESCON in terms of rewards and recognitions with Dr. Hamid Mustapha, Hon. Abayifa Karbo, Emmanuel Attafuah Danso and many others.
Dignitaries present were Sam Payne, Ashanti NPP Regional Secretary, Hon. Dr Yaw Adutwum, A Deputy Minister for Education; Richmond Agyenim Boateng; Kwadaso Municipal Chief Executive (MCE), Francis Adomako Baafi; Ashanti NPP Regional Organiser, among others!