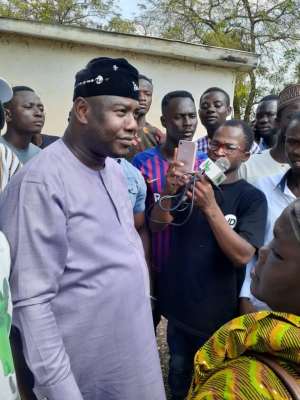 An Aspiring Parliamentary Candidate (APC) for Yendi Constituency, Alhaj Farouk Aliu Mahama earlier Monday, 25th November 2019 met with Hospital authorities of the Yendi Government Hospital over the deplorable condition of the health facility.
It would be recalled that, last week a group known as the Ghaza Empire in Yendi through its spokesperson, Amingos made a clarion call to sons and daughters of Yendi and benevolent persons and organizations to quickly come to the aid of the Mortuary of the hospital which has not seen any rehabilitation for 22 years.
The group bemoaned the sorry state of affairs at the mortuary which has no functional fridge thereby making the storage of dead bodies a nightmare.
On the wings of this appeal, Farouk Aliu Mahama has visited the facility and assured management of his readiness to refurbish the mortuary.
Addressing the media after his meeting with Management of the Hospital, Farouk assured the people of Yendi and its environs of his preparedness to fully fund the cost of rehabilitation and provision of equipment to keep the mortuary fully functional.
He is committed to spending Ghc 150,000 to rehabilitate and furnish the Yendi Hospital Mortuary by January, 2020.
In an exclusive interaction with the *Voiceless Media* in Yendi, Farouk said he was doing the project as a son of Yendi and not for political expediency.
The *Voiceless Media* will keep watch over the progress of work and update our readers.
*Source: Voiceless Media*
ent from Yahoo Mail on Android
1 Embedded Image : Slide show | Download all | Show as attachments