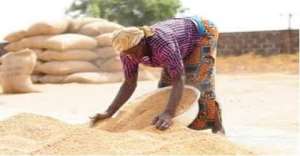 The President of Ghana Rice Interpersonal Body, Nana Agyei Ayeh II, has called on government to support them with combine harvesters and other resources, to enable them increase the production of rice cultivation across the country.
He said the local production and value addition of rice was critical to saving Ghana from spending huge sums of monies annually on the importation of rice.
However, he noted that gone are the days when rice "It was a mournful crop now it has become the kid on the block to the great disadvantage of the country."
According to him, the rice currently produced in the country was good. "It is just that the milling capacity is low and cannot cope with the increasing rice production in the country, we are pleading with the government to support us with more combine harvesters to ensure rice farmers in Ghana increase the production of rice," Nana Agyei Ayeh II told Kwame Tutu on Accra-based Kingdom FM 107.7
He said the focus of the government in the MOFA/JICA TENSUI (Rain-fed) Phase II partnership project, was to help increase rice production, improve quality of local rice to increased domestic consumption and help reduce the importation of the crop into the country.
According to him, said the rice that would be produced would be of high quality comparable to international standards.
According to him, it was scaring that Ghana on an annual basis was importing $1 billion worth of rice when in actual fact the country has the potential to produce the crop locally and feed its people.
Nana Agyei Ayeh II urged that private players in the sector should collaborate more support smallholder farmers on the continent.
The Ministry of Food and Agriculture (MoFA) has entered into a 2.5 million euro Public Private Partnership (PPP) agreement to boost rice production in the country.
It is being championed by the German Government and implemented by AGRA and other partners.
It also intends to adopt a two-tier approach on short, medium and long-term solutions to enable the government achieve its sub-sector goal of becoming self-sufficient in rice production to improve the livelihoods of 128,763 farmers by 2020.