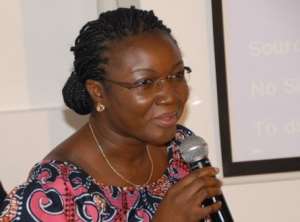 I take exception to this cheap and tawdry attempt by Mrs. Joyce Bawa Motgari to use her kinship with my idol and political hero – I have only a handful of them – Ms. Otiko Afisa Djaba to gratuitously and vacuously slam President Addo Dankwa Akufo-Addo, for "reshuffling" Ms. Djaba from the Gender, Children and Social Protection Ministry last year into the equally significant and enviable diplomatic portfolio of Ghana's Ambassador to Italy, which Ms. Djaba promptly declined on the quite tangible grounds that she had to take care of her ailing former husband (See "Akufo-Addo Disrespected My Sister – Joyce Bawa Motgari" GhanaGuardian.com / Ghanaweb.com 11/23/19).
In all likelihood, Mrs. Bawa Motgari, who has absolutely no credibility, whatsoever, when it comes to the interests and well-being of her elder sister, had hoped that by so gratuitously slamming President Akufo-Addo, she could make her maternal cousin and former President John Dramani Mahama, whose aide and virulent spokeswoman she has been performing since their family-affair government was auspiciously ended by the Ghanaian electorate, seem to have been more caring and administratively competent than "Mr. Dumsor" had actually been as substantive President of the Sovereign Democratic Republic of Ghana.
But, perhaps, what is even more significant to point out here is the fact that all presidential appointees, without exception, constitutionally or statutorily speaking, primarily serve at the pleasure of the National Chief Executive who appointed them to their jobs. Consequently, the decision to transfer Ms. Djaba from the Gender, Children and Social Protection Ministry into the diplomatic corps was not the judgment call of Ms. Bawa Motgari, who, by the way, was once widely reported by the media to have removed the personal belongings of Ms. Djaba from their mother's house and, with the alleged approval of the two sisters' mother, according to widespread media reports, and Ms. Djaba's own public revelation at the time, literally chucked Ms. Djaba's belongings into the streets of Bole. I vividly remember calling on President Akufo-Addo, in one of my columns, to intervene and help restore harmony between these two sisters and Ms. Djaba and her mother.
It is therefore rather scandalous and downright hypocritical for the former Mahama Deputy Transportation Minister – now, let's talk about nepotism – to be slamming Nana Akufo-Addo for supposedly "disrespecting" Ms. Otiko Afisa Djaba, by transferring the latter from the Gender, Children and Social Protection Ministry. Now, who is Joyce Bawa Motgari to imperiously presume to lecture President Akufo-Addo on who best qualifies to serve in what capacity in either Nana Akufo-Addo's cabinet or government in general? And was this the very first time in Ghana's postcolonial history that a minister or cabinet appointee had been transferred from one portfolio to another in a reshuffle? Indeed, she may have deviously or conveniently forgotten this but many of us have not forgotten the reshuffling of his cabinet by then-President John Agyekum-Kufuor, which saw the now-President Addo Dankwa Akufo-Addo transferred from the portfolio of Attorney-General and Minister of Justice to that of Foreign Minister and Minister-in-Charge of Regional Integration. Was that tantamount to Mr. Agyekum-Kufuor's display of abject disrespect for Nana Akufo-Addo?
Among the Akan-speaking people of Ghana, there is a maxim that runs as follows: "The animal/beast that will bite you often lurks in your cloth." In sum, if anybody has acted more disrespectfully and dangerously towards the well-being and interests of Ms. Otiko Afisa Djaba, that person, of course, is none other than Mrs. Joyce Bawa Motgari, Ms. Djaba's own sister, and not Nana Addo Dankwa Akufo-Addo. Truth be told.
*Visit my blog at: kwameokoampaahoofe.wordpress.com Ghanaffairs
By Kwame Okoampa-Ahoofe, Jr., PhD
English Department, SUNY-Nassau
Garden City, New York
November 23, 2019
E-mail: [email protected]