On Tuesday, November 19, 2019, the CEO of OSCARPAK ENTERPRISE, Mr. Oscar Ankoma presented some office equipment to the Accra Railway Police Station to mark his birthday celebration.
The GH¢15,000 worth of items donated included office chairs, office cabinets, and a refrigerator
Mr. Oscar Ankoma, the CEO of OSCARPAK ENTERPRISE said, the items donated were to support the work of the police service because they are always the first to point of contact for social protection.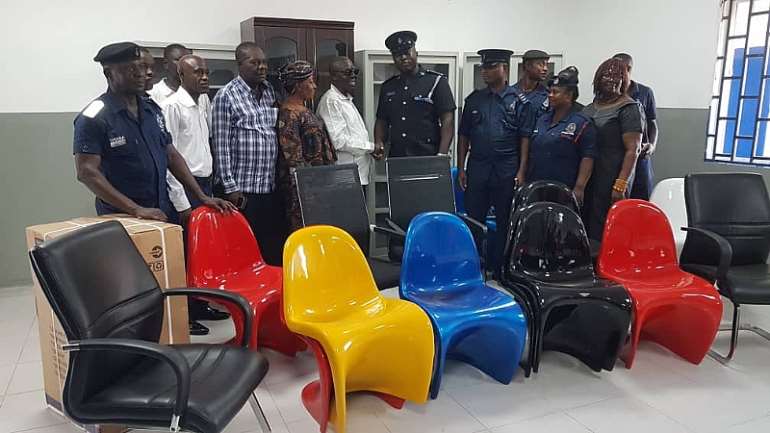 DSP Emmanuel Ofori Asante, District Commander, Accra Railway Police Station expressed his profound gratitude to Mr. Oscar Ankoma for his benevolent support and assured to put the items to useful use in order to make their work easy and more friendly.
DSP Emmanuel Ofori Asante describes the gesture as a 'beautiful one' said, most people always conclude when the police receive support from private institutions as a bribe but alluded to the fact that these items received from OSCARPAK ENTERPRISE weren't one but an act of philanthropy.
Touching on their challenges, he called on stakeholders especially the heads of market associations to join the police to fight worthy courses.
"Typically, discipline at our market centers should be maintained in that demarcated places for trading time-honored and road-side tradings abhorred," he emphasized.