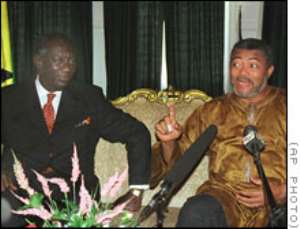 The ruling New Patriotic Party (NPP) is seriously reviewing the withdrawal of the privileges and courtesies accorded to the former President, Jerry Rawlings.
The Foreign Minister, Nana Addo Danquah Akuffo Addo, told the Daily Dispatch that government has constantly been reviewing the withdrawal of the privileges in the interest of peace, fostering true reconciliation and promoting national unity.
President Kufuor in his Independence Day goodwill message on March 6, 2006 asked Ghanaians to endeavour to seek true reconciliation with one another.
The NPP government in 2002 withdrew the privileges and courtesies it had extended to the ex- president, anytime he travelled out of the country.
Reasons given by the government included extreme provocation and unguided utterances by the former president.
The government believes that these acts were capable of undermining the Office of the Presidency and bringing its name and image into disrepute.
The Member of Parliament for Tamale South, Haruna Iddrisu in a reaction said if a review of the withdrawal is being done, " it was good news".
Mr Iddrisu who is also the Spokesman on Communications said the reconciliation process is important for the country.
" Ghana is most supreme. The office of the former president should be treated as an institution, not personalized. I would even go for an amendment to the Constitution for the Council of State, to include ex presidents because such people have a wealth of experience," he said.