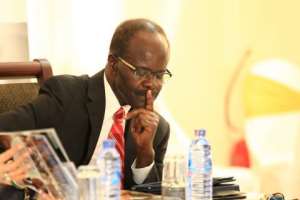 Dr. Paa Kwesi Nduom
The concerted efforts to stop Dr. Papa Kwesi Nduom in his tracks and prevent him from not only continuing in his banking, financial and other businesses, but also contesting at December 2020 elections as a Presidential candidate for the Progressive People's Party (PPP), is a disturbing phenomenon that is trending in our country.
Dr. Nduom's GN Bank has 300 (three hundred) branches in Ghana, spread across all regions, districts, towns and even some villages. Lo and behold, in early 2017 the Bank of Ghana announced an increase in the minimum capital requirement of 233% for commercial banks in the country from 120,000,000 million Ghana cedis to a whopping 400,000,000 million Ghana cedis by the end of December,2017. GN Bank and its shareholders then decided to descend a step lower into a Savings and Loans Company which capital requirement is 15,000,000 (fifteen million) Ghana cedis. Blackshield Capital Management (formerly Gold Coast Fund Management) also owned by Groupe Nduom is included in the 76 (seventy-six) financial sector business that have had their licenses revoked by the Bank of Ghana and also Securities and Exchange Commission) on 16th August and 8th November 2019 respectively for reasons of being insolvent and failing to return client funds which remained locked up in contravention of investment rules. Groupe Nduom immediately refuted the allegation of insolvency and has since sued the Bank of Ghana, praying the High Court to restore GN Savings and Loans company. Blackshield Capital Management is also preparing to go to court to contest the revocation. For how on earth would an indigenous Ghanaian businessman of Dr. Papa Kwesi Nduom's caliber be insolvent, yet finance Ghanaian Government projects through cash advancement of 2.4 billion Ghana cedis to several contractors who have efficiently completed government projects? Clearly, it is a fallacy to say Nduom and his companies were insolvent. Dr. Nduom is not broke. All that he is asking is for the Ghana Government to pay a total sum of 2.4 billion Ghana cedis owed to the contractors so that they can also pay GN Savings and Loans Company and Blackshield Capital Management in order that they can correlatively pay customers and investors.
Some cynics in their comfort zones have conspired to criminalise Nduom to make sure his name does not appear on the ballot papers for the 2020 elections. The conspirators have devised a scheme to close businesses owned by Dr. Nduom, in order to make him and the PPP that he leads unelectable. Often, I have come across fellow Ghanaians who have told me straight in the face that our Party (PPP) stands no chance in next year's general elections because they claim Nduom is finished. Such people come from both NPP and NDC who believe it is either of their political parties that really matters and in their limited vision, no other party is relevant. Incredibly, people now realise that Dr. Nduom, as the flagbearer of the PPP stands a massive chance to vie for Presidency of our country because he means so much to the people of Ghana and his ever growing popularity in the nation is progressively increasing among the electorate, much to the chagrin of the "powers that be". Dr. Nduom is now being talked about in every region, every district, every town and every village in Ghana because of the obvious ill treatment meted out to him.
Groupe Nduom (GN) has in its employment, thousands of men and women from all political persuasions. Best of all, Dr. Nduom is not a crook as recent propaganda demonstrators made others to believe. Others went to the extent of mock-burying him with the inscription on the coffin reading "Nduom Rest in Peace". This is how bad the banking closures has degenerated into and the reasonable men and women of our society have kept quiet; not even the religious organisations, yet Ghana is now considering building a Church of God in a corner of our capital city Accra. One wonders if God will endorse that church for all the wrong reasons we are witnesses of? It is not about building churches because Dr. Papa Kwesi Nduom has built a Roman Catholic church to the glory of God in his hometown Elmina in the Central Region of Ghana.
The new wave of banking crisis that has bedevilled our country from 2017 to date could not have taken place had the Bank of Ghana (BoG) and the Securities and Exchange Commission monitored activities of companies operating in the financial sector with efficiency and decorum. A critical question that needs answering is, who are the regulators within Bank of Ghana (BoG) and Securities and Exchange Commission that are responsible for monitoring activities of the 76 (seventy-six) companies operating in the banking and financial institutions to ensure they were fully compliant with the rules, regulations and guidelines? To wit, our immediate past deputy governors of Bank of Ghana ; the late Paa Kwesi Amissah-Arthur of blessed memory and Dr. Mahamudu Bawumiah have moved on to become Vice-Presidents of Ghana. Would one say during the tenure of their offices no banking and financial rules were broken under their watch? How come that suddenly BoG had to detect insolvencies in the banks and financial organisations necessitating the introduction of new minimum capital requirements from 120 to 400 million Ghana cedis that is at the centre of the current problems in the banking industry in Ghana.
Meanwhile, foreign Banks operating in Ghana are so powerful and rich to raise any levels of capital requirement. Standard Chartered Bank has operated in Ghana since 1869 (123 years); Barclays Bank has also been in Ghana for over 100 years. Other foreign banks in Ghana are Stanbic ,Zenith, Citi, J.P Morgan etc. These banks are always winning except our own indigenous Ghanaian businesses like Dr. Nduom's GN Bank (Savings and Loans Company) and other Ghanaian Banks that are gradually being wiped out. The menace is a discouragement to Ghanaian entrepreneurship and our Government must reconsider the BoG's harsh decision to revoke the licenses of 76 companies, thus, creating job losses for over 4,000 workers.
On another note, this development is succeeding in stigmatising our party (PPP) led by that Dr. Nduom, with clear intention of consigning us into a degree of insignificance. Right thinking men and women in our society bear testimonies that Dr. Nduom is :
An equally capable person for office of the President of our country come 2021
Not broke
An honest and selfless gentleman
Deserves recognition as a true Statesman for exemplary conduct of himself in the service of his country through the businesses he has introduced into the country and the thousands of employment opportunities he has given to fellow Ghanaians, irrespective of their political persuasions, tribal or religious denominations.
Things are getting out of hand and not until remedial action is taken, the otherwise peaceful atmosphere prevailing in the land shall be eroded.
Finally, I am appealing to our Head of State, His Excellency Nana Addo Dankwa Akuffo Addo, ex-Presidents, Their Excellencies J.A.Kuffuor, J.J. Rawlings and J.D.Mahama, The Regional House of Chiefs, The Muslim Association of Ghana, The Christian Council of Ghana to intercede not only on behalf of my party leader Dr. Papa Kwesi Nduom and his GN Savings and Loans Company and Blackshield Capital Management, but also on behalf of the other 74 companies in the Banking and Financial sector whose licences have been revoked for reasons of non-compliance. These companies need bailouts and support to return them to solvency thus preventing job losses. In 2007 the United Kingdom government bailed out the then struggling Northern Rock Bank. We simply must learn from this example rather than creating problems for our own indigenes on our long journey into development.
Kit Yawson
Chairman
PPP UK & Ireland Chapter
London
21 November 2019
Email: [email protected]