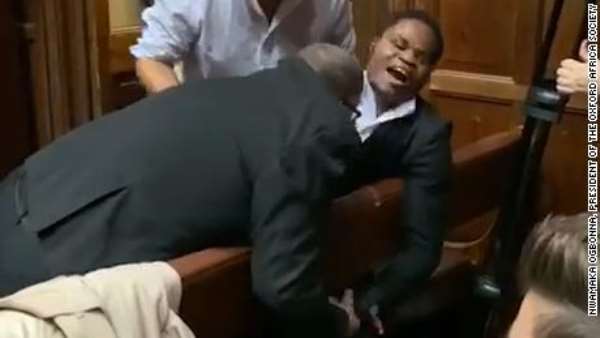 On Friday, 8th November 2019, the attention of the Ghana High Commission, United Kingdom was drawn to the video online portal of the Metro UK Newspaper, in which a visually impaired Ghanaian, Oxford University PhD student, Mr. Emmanuel Azamati, was being manhandled by security officials of the Oxford Union of the Oxford University.
Consequently, there have been efforts by the High Commission to contact relevant officials of the University, Oxford Union and the victim, and we look forward to hearing from them.
While we await positive feedback to enable the High Commission to have a meeting with other stakeholders on the matter, the High Commission condemns in no uncertain terms the manhandling by the Oxford Union of Mr. Emmanuel Azamati, especially when they knew that he is visually impaired.
The Ghana High Commission considers the welfare of Ghanaians studying in educational institutions in the United Kingdom of paramount importance and calls on all such educational institutions and organisations affiliated to them to treat Ghanaian students with respect.
Ghana High Commission UK/Ireland
13 Belgrave Square
London