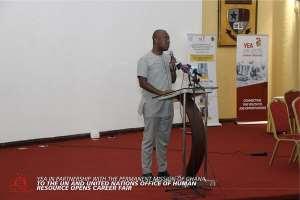 The Office of Human Resources (OHR) with the support of the Permanent Mission of Ghana to the United Nations and the Youth Employment Agency (YEA) will organise a 2-day outreach programme to create an awareness in member states about career opportunities and Internships.
According to a statement signed by the Corporate Affairs Directorate, Ghana with its immense contribution to the UN Peacekeeping operations has been selected as a beneficiary of the outreach programme with the aim of enhancing the chances of its applicants.
The statement said "The outreach programme involves workshops, presentations and seminars for potential applicants. The areas of training include capacity building and networking with civil society organisations and academia"
The statement noted that the outreach will build the knowledge of the Ghanaian youth on UN recruitments processes and enhance prospects for passing interviews.
It mentioned that the outreach will provide an avenue to deliver information sessions to a variety of groups on the requirements for civilian professionals in certain areas.
The statement emphasised that Management, Administration, Economic, Social, Political, Peace and Humanitarian issues among others are specialised area which will be tackled.
Chief Executive Officer (CEO) of YEA, Justin Kodua Frimpong stressed that the outreach forms part of the new policy directions and initiatives of the Agency.
"The Agency welcomes the idea as it believes per the Mission's projections, the programme will assist qualified and interested Ghanaians in their search for credible pathways as as access to the UN career opportunities and jobs," he posited.