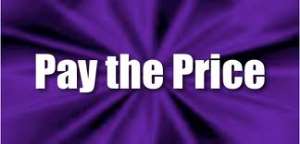 Nothing ever comes free, but at a price. The price could be direct, concealed and/or dire. But are all prices worth paying? Similarly, are all risks worth taking? Or better put, is any price worth paying? It depends. The value one attaches to a commodity, an item or a thing, and the scarcity of their availability, determines how far one will go to paying its selling or asking price, no matter how expensive it is.
As "Uneasy lies the head that wears the crown", which unfortunately by the attitudes of our current crop of political and traditional leaders has become an indefensible fallacy, so is it not easy and safe to he who honestly seeks, and fights, to ensure the collective interests of his people and nation. Because of the level of ingrained, or insatiable quest for riches, geed to put it mildly, selfishness, callousness and the difficulty to foresee the wisdom in a society of neighbours all living well side by side the other, it becomes not only herculean but dangerous to any individual volunteering to pursue a course of action tailored towards securing the collective wellbeing of his people and society. The current leaders unlike those of the olden days, are too corrupt and selfish to bother about the collective welfare of Ghanaians but their own, hence making it absolutely irrelevant and fallacious the saying, "Uneasy lies the head that wears the crown"
Owing to the difficulty of the majority of the people often understanding the usefulness of having a society in which every member, or most of its members, live much better, live in safety, and in security of their properties, it is never easy to obtain one's objective of vowing to dedicate his/her life to the service of his people and nation.
When you happen to chart the course of fighting for justice, peace and prosperity for your people, it does not take long for you to find yourself hated and scorned by the very people you are aspiring to help. This is a proven fact that has been emphasised by Mark Twain. He said, "In the beginning of a change the patriot is a scarce man, and brave, and hated and scorned. When his cause succeeds, the timid join him, for then it costs nothing to be a patriot."
Myself, Kennedy Agyapong (Hon) and some other Ghanaians are living proofs of my assertions regarding the problems faced by whoever tries to extricate Ghanaians from slavery under the hands of their leaders and a few society-created strongmen or human-monsters.
More often than not, threats of death are issued to those pursuing a cause intended for liberating their people from some molestations and subjugations masterminded and orchestrated by the so-called few powerful persons in the country, especially, their public and traditional heads. The very people one is trying to help are oftentimes those from whom some so-called powerful persons will instigate, brainwash and fool to attack, either physically or insultingly, the one trying to help their lot. One of such personal bitter experiences could be read from the web link below.
Read More: The Nuisance Nocturnal Ghanaian Phone Caller in London has been Named
It is not for unjustified reasons that some of those fighting for the collective interests of their people and country choose to become extra cautious to the point of being seen by others as unsociable. When you start a good cause and you are unable to achieve the ultimate objective, it would be better if you had not started it at all. This is the main reason why precautions are taken to help the person initiating and championing a good cause to stay longer to achieve their aim of enhancing the collective welfare of their countrymen.
There was a funeral of my Kumawuman compatriot on Friday, 15 November 2019, in London. I should have attended but for two constraints, I couldn't. I sorely missed the opportunity of consoling and sympathising with the bereaved family as well as having the chance to meet some of them that I have not seen for the past forty and over years. The pain of failure to identify with them to express my sorrow by my mere presence is something which is very unbearable. Nevertheless, it is a price to pay for volunteering to fight a good cause for the collective welfare of the people of Kumawuman and their locality.
One will be compelled to spend not only their time but money and also, do more work of explaining and persuading people to understand why he/she has embarked on seeking the collective welfare of the people.
Have many people understood Kennedy Agyapong (Hon)? No, they haven't! Many a time, I do hear many Ghanaians insult him; accuse him of all fabrications and wish him dead. This is a mentality born out of total ignorance. If they knew, and are prepared to find out how he is seeking their collective welfare as Ghanaians, they would rather see him as a hero to align themselves with his cause.
Do many Ghanaians understand why I do what I do, writing copiously about the ongoing Kumawu chieftaincy dispute? No, they don't or else, they would have given me accolades for a job being well done. Some overlord somewhere, who thinks he is superior to every Ghanaian and is more powerful, more human being than any other Ghanaian, wants to dubiously rewrite the history of Kumawuman to benefit his self-serving interest at the expense of the Kumawuman masses. If I take measures to tell the true history of Kumawuman with the intent to stopping his pretences and greediness, have I done anything wrong.
The fact that you risk paying any of the following or all of the prices I am going to list below, you should not relent in your noble pursuit until victory becomes yours, although it is not that easy.
You will be insulted. You will be threatened with death. You may be killed. Your better half may quit you for getting fed up with your cause and its attendant risks to their safety and security. You may be disowned by the very people you are fighting for. You may be sabotaged and hated. Nonetheless, if you stand your grounds, you will succeed in the end to be given a hero's welcome. All your sufferings will have paled to nothing.
With this said, I shall forever fight for the common good of Ghanaians, especially, the people of Kumawuman.
Please, fellow Ghanaians, excuse my absence from any social function. It is not deliberate acts of anti-socialism that I don't attend some functions but for genuine reasons.
The news of the passing of one Mr Isaiah Opoku Boateng (Hon) a. k. a. Alo, a former District Chief Executive of Sekyere East Constituency and an alumnus of former Kumawu Tweneboa Kodua Secondary School, my junior and Kumawuman compatriot, has just been broken to me on my WhatsApp. With a heavy heart do I end this write-up saying, my condolences to his bereaved family and friends. May Baptiste's mum and younger brother as well as the wife, children and relatives of Isaiah, find solace and succour in God in this critical phase of their lives.
Rockson Adofo
Sunday, 17 November 2019