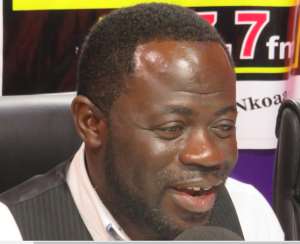 Kwadwo Boateng-Agyemang
The New Patriotic Party (NPP) Constituency Chairman for the New Juabeng North in the Eastern Region, Kwadwo Boateng-Agyemang, has called on all Ghanaians especially those in the public service, to change their attitude in order to make the public sector reforms being implemented by the government, work.
He explained that without the right attitude, the implementation of reforms will not be effective, a situation that will negatively affect the sector.
The Chairman bemoaned public workers' approach to work and implored them to change their attitude.
He indicated that "when the attitudinal change to work in the public sector improves, it will eventually lead to the realization of the vision on the Ghana Beyond Aid policy," Kwadwo Boateng Agyemang told Lawyer Ohene Gyan on Pae Mu Ka on Accra based Kingdom FM 107.7.
"One can be smart, capable and competent, but if one is habitually late, be it to work or on deadlines, one runs the risk of undermining one's professional reputation."
He urged managers to enforce the conditions of service for every employee to curb such negative attitudes towards work while admitting that sometimes the office environment does not inspire staff to give of their best.
Kwadwo Boateng Agyemang, therefore, urged members of the public service to embrace these reforms, for they represent effective means for the creation of a public service that will deliver for the citizenry and the private sector.