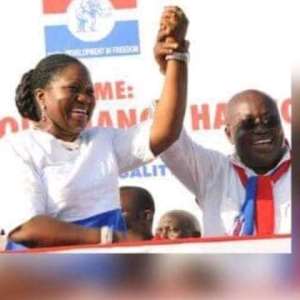 Madam Patricia Appiagyei, MP for Asokwa with her hands raised by Nana Addo Dankwa Akufo Addo during the 2016 campaign
Even before Parliament begins to debate the 2020 budget presented by the Minister of Finance last week, Member of Parliament for Asokwa says NDC has no moral right to talk about roads in the country
Madam Patricia Appiagyei who doubles as the Deputy Minister of Environment, Science, Technology and Innovation says the National Democratic Congress Party should be ashamed for spending a whopping GH3 billion cedis on the poor roads it constructed between 2012 and 2016.
Speaking to Modern Ghana the Asokwa Legislator noted that all roads that were built during the Mahama government era have deteriorated already, slamming the Mahama led administration for what she called unpatriotism.
"Such unpatriotic persons suddenly think they can present themselves as credible when they failed and disappointed Ghanaians woefully at their time", she slammed.
She noted that the Potholes and gullies has become a constant feature on these roads across the country.
Sompahemaa as she is affectionately called, however asked Ghanaians to have a sigh of relief as President Akufo Addo is committed to rehabilitating such bad roads and starting news ones to open up the country.
"Despite the display of incompetence by the NDC in road construction I am happy to note that HE Nana Addo Dankwa Akufo- Addo is committed to redoing all bad roads and constructing crucial ones to open up the economic space of the country", Madam Appiagyei posited.
She said the government is pumping all monies agreed under the Sinohydro agreement into constructing better roads for the people as was clearly spelt out by the Finance Minister while reading the budget last week.
Madam Appiagyei said all roads earmarked for construction are strategic and important ones in the country.
"It is important to note that unlike the NDC the NPP government is projecting to spend all funds under the Sinohydro agreement to construct quality roads that will last long for the people.
...we will fix all bad roads but it is simply unthinkable that the NDC who did a shoddy job on roads in the country are the ones shouting loudest about bad roads", Madam Appiagyei slammed.