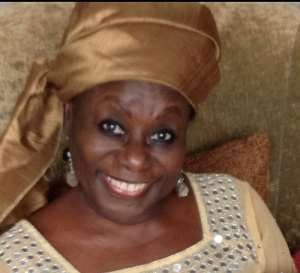 Marigold Akufo-Addo
It appears there has been a dirty campaign that has fallen flat and hanging with no basis. This is in relation to Akwamu Chieftaincy matters and Akwamufie against a sister of the sitting President Nana Akufo-Addo in the person of Madam Marigold Akufo-Addo.
Madam Marigold has denied ever initiating any proceedings, to destool any person in Akwamufie and making attempts to cause confusion, mayhem, and bloodshed in the house.
According to her, the whole Bekai family, consisting of the family in Abomosu/Kyebi, Kwahu, Akropong, Akwamufie, Anum, and Anlo, have performed the required traditional custom to destool the Queen mother of the Bekai Stool Akwamufie.
Her reaction came after she was accused of masterminding the destoolment of the Queenmother, Nana Asaa Safoa II, known in her private life as Mrs. Adelaide Duncan Olabaju.
However, in a Press Release issued to debunk such allegation, Marigold Akufo-Addo stated that she never took any such decision to be it judicial or otherwise, to destool the said Queen mother but that her destoolment was an agreed decision per the customs by all the Bekai families.
She averred that a document in her possession; unsigned and undated and which was subsequently revealed to have emanated from Mr. Kwabena Danso, a purported Abusuapayin, has been circulated to various press houses and copied to several dignitaries to the effect that she, Madam Marigold Akufo-Addo has destooled the Queen mother Nana Asaa Safoa II (the destooled queenmother).
Meanwhile, Opanin Gyetua confessed in a telephone conversation that Nana Asaa Sarfoa sent them the said Press Release for them to sign, but they didn't read it carefully before signing because of the pressure from Nana Asaa Sarfoa's driver who brought the release to them.
"I, Madam Marigold Akufo-Addo states categorically that in my personal capacity, I have not initiated any proceedings, judicial or otherwise, to destool any person in either Akwamu or Akwamufie," she said.
She, however, explained that the decision by the Bekai family to destool Nana Asaa Safoa II has been followed by the judicial proceedings at the Akwamu Traditional Council, where the matter is pending currently.
She continued: "Again, as far as I am aware, the Akwamu Traditional Council has not even met on the matter nor has the said council placed an injunction on any person from electing, selecting or installing a queen mother for the Bekai Stool Akwamufie. ln any event, I am not a candidate for queen mother or any other traditional office in Akwamufie."
Madam Marigold Akufo-Addo also denied organizing any persons to create confusion or perpetuate violence in Akwamufie or Akwamu and that the contents of the said purported press release should be ignored, noting that "the matter concerning disturbances in the Akwamu Traditional Area has been reported to the appropriate security agencies.