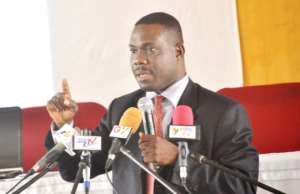 Technical Advisor to the Minister of Local Government and Rural Development, Eric Oduro Osae has said the National House of Chiefs' opposition to proposals for political party participation in the District Level elections will not influence the voting pattern in the referendum.
The House asked Ghanaians to completely reject the December 17 referendum which is aimed at seeking permission from Ghanaians to allow political parties to sponsor candidates for elections at the local level.
The House in a statement issued and signed by its President, Togbe Afede XIV, argued that effective decentralization would negatively be affected by the control of local parties given that the constitution was purposely designed to protect local level governance.
"We want the citizenry to know that the referendum is meant to permit unbridled partisan politics into local government, and so the merits of the proposed reform should be assessed on that basis. We strongly recommend its rejection by the citizens", the House said in the statement.
It added that; "The efficacy and utility of introducing partisan politics into local government is questionable. The development implications of such reforms are by no means self-evident. The framers of the 1992 Consitution had good reasons for protecting our local government system from partisan politics, and the rationale for the new reforms has not sufficiently addressed the grounds for the exclusion."
Mr, Osae on Eyewitness News however indicated that it was expected that the House of chiefs will oppose the referendum, slated for December 17, given that Article 27 (6) of bars chiefs from participating in active politics.
He was however confident that Ghanaians, given that they are discerning will not make their decisions based on assertions from the National House of Chiefs.
"It comes to me as no surprise. No surprise because Article 27(6) bars chiefs from actively participating in political parties so I want to believe that any attempt to introduce a multipartisan system into the local level will naturally receive backlash. However, under our Constitution, Ghanaians are required to vote not by direction but by their conscience and belief. So though I read the press release I did not give it any weight because in my view it will not sway the voting pattern because Ghanaians are discerning and they will read between the lines."
"But with your interview with the other chiefs and latest development tells me that we have to be careful about some of these press statements. That notwithstanding we are continuing with our campaign for a YES vote. We have to democratize the local government system."
Vote NO in December 17 referendum – NDC to Ghanaians
President Akufo-Addo during his recent Volta Region tour used his platform to  urge Ghanaians to vote YES  in the referendum.
This the NDC, however, argues that the consequence of exporting this polarization into the District Assemblies will retard development, and "that is unhealthy for Ghana's democracy."
It, therefore, wants Ghanaians to  vote NO  in the referendum.