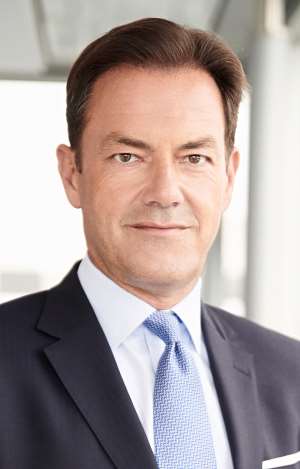 Joachim Müller
Allianz Global Corporate & Specialty SE (AGCS) and Allianz Deutschland AG today announced leadership changes that will take effect from December 1, 2019, subject to regulatory approval.
Joachim Müller, currently CEO of Allianz Versicherungs-AG (the Property & Casualty insurer of Allianz Deutschland) and of Allianz Beratungs- und Vertriebs-AG (ABV, the sales company of Allianz Deutschland) will be appointed as the new CEO of AGCS. He will succeed Chris Fischer Hirs who will step down as CEO from November 30, 2019. Andreas Kanning, currently a Board Member at Allianz Beratungs- und Vertriebs-AG (ABV), will become CEO of ABV and a Board Member of Allianz Deutschland AG. Klaus-Peter Röhler, CEO of Allianz Deutschland AG, will take over as CEO of Allianz Versicherungs-AG in addition to his current responsibilities.
Joachim Müller is currently also a Board Member of Allianz Deutschland AG, with responsibility for Sales (being CEO of ABV since 2014) and for Property and Casualty insurance (where he has been CEO since 2016). With extensive experience in the financial services industry, Joachim has successfully demonstrated in his recent CEO roles how long term revenue growth can be combined with sustainable underwriting profitability. He brings to AGCS a proven track record of leading large-scale insurance businesses through transformation and digitalization, while maintaining a strong focus on customers and sales in sectors ranging from retail and SME up to large businesses, including in highly competitive market environments.
Andreas Kanning joined Allianz in 1995 and took over several managerial tasks in the sales area. From 2012 until 2014, he took over a management role in Human Resources at Allianz Deutschland AG, after which he was appointed to the ABV Management Board. He became responsible for the northern sales region and was appointed Labor Relations Director. Andreas has significantly contributed to the successful development of ABV.
In addition to his role as CEO of Allianz Deutschland AG, Klaus-Peter Röhler will become CEO of Allianz Versicherungs-AG. Klaus-Peter, who has played a key role in the development and introduction of the Allianz Customer Model, will also represent the property and casualty insurance division at the Management Board of Allianz Deutschland AG.
Chris Fischer Hirs joined Allianz in 1999 as Chief Financial Officer of Allianz Risk Transfer AG (ART), and was a key part of the team which established ART as a leading player in the alternative risk transfer sector. He joined the AGCS SE Board in 2007, and held a variety of Board positions contributing to the successful establishment of AGCS, including Chief Regions & Markets Officer and then CFO, before becoming CEO in 2015. During his tenure as CEO, Chris successfully led the company through a period of extensive change, including the incorporation of Allianz subsidiary Fireman's Fund Insurance Company into AGCS.
Niran Peiris, Member of the Board of Management of Allianz SE with responsibility for Anglo-markets, Global Insurance Lines, Middle East and Africa, points out: "Chris has been with AGCS since its early days, and has been instrumental in shaping the company into the market leader it is today. I would like to thank him for his long-standing contribution to Allianz and to welcome Joachim into this new role. He is the right candidate to lead AGCS into the future: he will continue to transform the company and to secure its leading position in this important business segment for Allianz and for our customers."