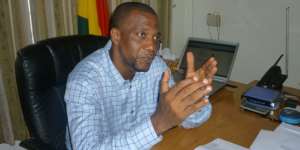 Jacob Osei Yeboah
The independent candidate of the 2012 and 2016 Presidential election, Jacob Osei Yeboah popularly known as JOY 2012 has said people campaigning for 'Yes' vote in upcoming the December 17th referendum are selfish and hypocrites.
According to him, the Nana Addo – Bawumia led NPP government is deceiving people for their own parochial interest.
"The justification for 'Yes' is about selfishness and deception. As a nation, we should not allow President Nana Addo to always have his way. When facts and truth meet hypocrisy and deception perish, the land Ghana and the spirits of our forebears are all angry with the partisanship at the District levels," Jacob Osei Yaw told thepressradio.com .
He added that "we all want our MMDCEs to be elected but Article 55(3) should remain the same so Ghanaians should vote No at the referendum or boycott the referendum. Ghana cannot borrow to amend only Article 55(3) of the 1992 Constitution. This is not how the public purse is protected for Ghana".
Jacob Osei Yaw who has endorsed the opposition National Democratic Congress (NDC) stands on the campaign against the December referendum has asked Ghanaians to vote against the proposed amendment of Article 55 (3) of the 1992 Constitution which will make local government elections partisan.
Article 55 (3) stipulates that "subject to the provisions of this article, a political party is free to participate in shaping the political will of the people, to disseminate information on political ideas, social and economic programmes of a national character and sponsor candidates for elections to any public office other than to District Assemblies or lower local government units.''
But JOY 2012 maintained that the local government system should remain non-partisan and that individuals should contest the District Assembly and Unit Committee elections on their own merit.
"I've renamed the 17th December Referendum as 'Alexia Referendum' after the late daughter of Dr. Abu Sakara, at whose funeral gave me the opportunity to have the ears of Fmr President JDM for 3 mins," he emphasised.