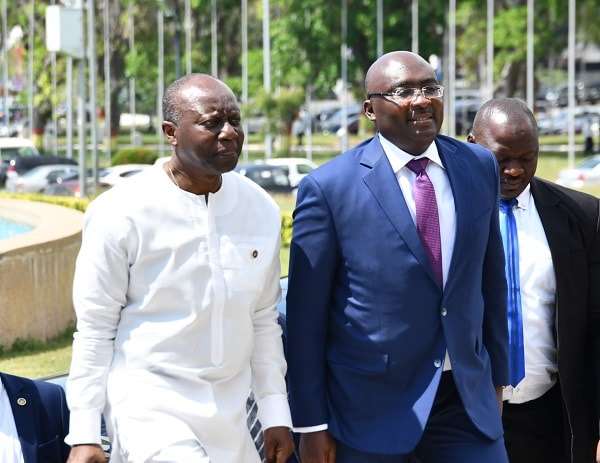 The Minister of Finance, Ken Ofori Atta has said government would undertake radical policy and institutional reforms to raise Ghana's tax-to-GDP ratio from 13 to around 20% in 2020.
Mr. Ken Ofori Atta revealed this when he presented the 2020 budget statement before Parliament on Wednesday, November 13, 2020
According to him: "The focus would be on efficiency and base-broadening rather than imposing new taxes on our people and businesses. This way we can raise our domestic contribution to our ambitious transformation agenda."
He added that a 3-year reform initiative, coordinated by the Ministry of Trade and Industry, intended to empower local businesses would be implemented to make Ghana one of the most transparently and efficiently regulated business environment in Africa.
The Finance Minister in his budget statement also noted that the government would intensify its drive for Foreign Direct Investment (FDI) to complement its resources in driving transformation in the coming year. According to him, the government has already established an Inter-Ministerial Committee to provide coordinated policy guidance and support to the FDI drive.
In like manner: "Government will deploy early in 2020 a number of initiatives to enhance the access to our business to finance, including medium and long-term capital. These include the new National Development Bank, the Ghana Incentive-based Risk Sharing System for Agricultural Lending ( GIRSAL), the Ghana Commodity Exchange and a strengthened Venture Capital Trust Fund," said the Mr. Ken Ofori Atta.
He further indicated that, government aimed to use digitization to transform Ghana's development path in line with the global realities of the 4th Industrial Revolution. "We will continue the impressive achievements made over the last three years in using digitization to improve government services and make it more accessible to Ghanaians. We will also intensify efforts to support the development of Fintech and the knowledge economy in Ghana, he said during the budget presentation in Parliament.
Highlighting on some of the achievements of the government over the last three years the Finance Minister noted that import duties were reduced by 50% from April 2019, the 1% Special import levy was abolished, Excise duty on petroleum was abolished, 17.5% VAT on domestic airline tickets and selected important medicines respectively among others were all abolished.