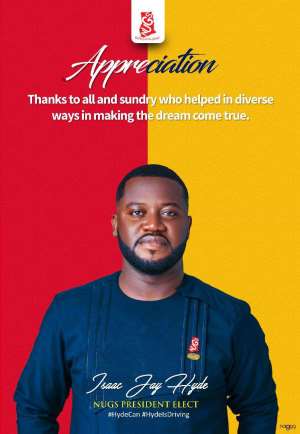 The Student Representative Council (SRC) of the Ghana Institute of Management and Public Administration (GIMPA) is overwhelmingly ecstatic to congratulate the National Union of Ghana Students (NUGS) president elect, Isaac Jay Hyde on his convincing victory at the recently ended polls.
Isaac Jay Hyde is the NUGS president elect happens to be a student of the institution; a fact which has indeed, made this victory an endearing one for the SRC.
Over the years, GIMPA has held continues record of emerging victorious anytime a candidate is presented by the institution to contest the presidential portfolio of the union.
The SRC president, Benjamin Ansah, in his address after the election says it would be one of his main priorities to work and struck relevant liaison with the NUGS fraternity led by a student of the institution to tackle the needs of students.
The General Assembly of the SRC was also quick to issue a communique thanking all folks who contributed in diverse ways as well as the NUGS president elect to bring the course into fruition.