Singh gives $1.5m worth of HIV/AIDS drugs to Ghana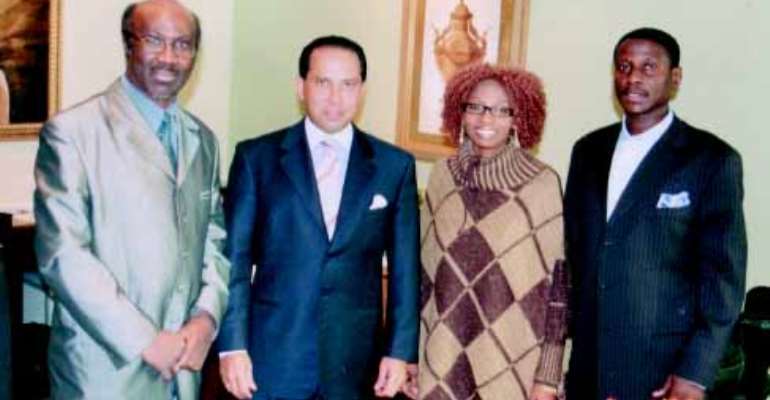 Multi millionaire David Singh of Destiny Group of Companies has donated ARVs (Anti-retroviral) drugs valuing half-a-million dollars Canadian to the Kay Morris Foundation (KMF) for their 2006 HIV/AIDS & Malaria mission to Ghana, West Africa. He made the donation on February 28, 2006 when the President and some Board members of KMF called on him at his Richmond Hill office. Mr. Singh's organization will also partner with KMF for 5 years providing drugs and financial support for various projects in the West African region.
David Singh is a major figure on the Canadian business and investing scene. He is the Chairman of Destiny Money Solutions, a knowledge-based money solutions organization offering Canadians practical, realistic solutions to the money questions they are facing.
The Kay Morris Foundation was founded in Africa in the Fall of 2003 and was registered in Ghana on October 8th 2003 and in Canada on November 8th 2003. Its registration number is1591030.
KMF came about as a result of Kay Morris (a multi-award winning international gospel artist) and her touring throughout Africa, seeing the plight of the people in need,
Kay decided to use her gift of music to effect change.
After completing her tour in 2003, Kay traveled to Africa in April 2004 and donated medicine to HIV/AIDS patients at the Korle Bu Hospital HIV/AIDS Fever's Unit & the Ghana AIDS Commission.
In April 2005, KMF had its second successful HIV/AIDS medicine drive to Ghana at which time the organization donated medicine to the Ghana AIDS Commission, Korle Bu Hospital, the UNHCR (United Nations High Commission for Refugees) Camp. In addition the Foundation donated 600 books and educational materials to the St. Gregory's (elementary) Catholic School. During this mission, KMF also visited the Human Service Trust Orphanage in Cape Coast and donated toiletries and school supplies to the children at the orphanage.
KMF partners with World Vision Canada, UNICEF Canada, Health Partner's International of Canada. KMF collaborates with the Stephen Lewis Foundation, Urban AIDS and the United Nations High Commission for Refugees.
Source: Ghanaian News Canada
Caption for Picture: David Singh, Chartered Financial Planner 2nd left, Kay Morris, President of KMF, 3rd from left, Patrick Dadzie, Financial Advisor and KMF Associate, extreme right, Emmanuel Ayiku, Publisher of the Ghanaian News and KMF Board member