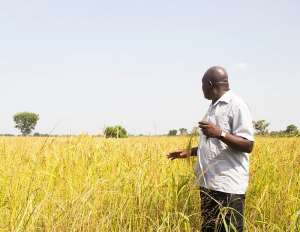 It is a known fact that every Ghanaian farmer has a story and unbearable experience to share, ranging from inadequate and outdated farm tools, finance, lack of ready market for farm produce, unpredictable rainfall pattern, just to mention a few.
To many, investing in the Ghanaian agriculture sector is a risky and imprudent decision to be taken by any investor.
The average Ghana farmer is becoming poorer and poorer each day, and nothing seems to be happening positively in their lives despite their hard work and determination at all times to make a living.
Government upon government over the years attempted promoting the consumption of locally produced food, but these efforts have never yielded any tangible results to the benefit of the ordinary farm and rice farmers are never an exception.
In other countries, farmers are the most respected and wealthiest people, however the narrative in Ghana is the opposite, where the average Ghanaian farmer is the poorest in the country.
To be short, precise and simple, I will begin by looking at the frustrations and predicaments of the rice farmer in Kubori, in the Northern region of Ghana.
Located in a low land area and surrounded by rivers, Kubori is most suitable for rice cultivation and maize often does not thrive due to the topography of the land. With an estimated population of over four thousand according to PHC 2010, 80% of the inhabitants are into rice farming and rice-farming is their gold mine and ultimate source of livelihood.
The sad story however is that the seemingly gold for the people of Kubori do not get ready market and most often farmers sell their produce on credit and hire purchase to prospective buyers who are usually the price determiners in the market.
Leaving the poor farmer poorer, and some could not even finance their farming activities in the following season.
The harvesting season has just begun and farmers could not even predict the price of a rice bag, because the decision is solely owned by the buyer instead of the poor rice farmer.
By Rahaman T.Y Rasheed.
kubori-North East Region
[email protected] .