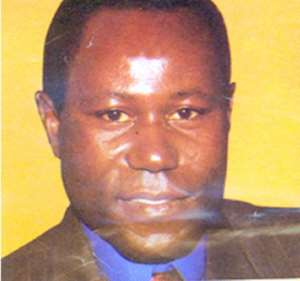 Agona-Nkwanta (W/R), March 14, GNA - Mr Joseph Boahen Aidoo, Western Regional Minister, on Tuesday said the use of public time and resources for personal gain constitutes corruption.
In address read for him at the opening of a two-day workshop on Democracy and Good Governance at Agona-Nkwanta, Mr Aidoo said corruption encompasses giving and receiving bribes, extortion, favouritism, nepotism, embezzlement, fraud and conflict of interest.
Ghana Integrity Initiative (GII) and the National Commission on Civic Education (NCCE) jointly organised the workshop for public and civil servants, opinion leaders and traditional authorities. It was under the theme: "Fighting Corruption - An Agenda For Democracy and Good Governance".
Mr Aidoo said the effect of corruption on the sustainability and effectiveness of development programmes is devastating. "Widespread corruption, where resources allocated for poverty reduction are used illegally for personal gain, violates human rights and stalls investment".
He condemned the notion among some people that whatever belongs to government belongs to nobody, saying such people did not care "a hoot" when government resources were being "created and shared".
"As citizens, we should be patriotic enough to consider government property as ours and to take good care of them," he added. Mr Aidoo said the basic principle is that suspicions of corruption should be reported to the Police for investigations, adding that those law-enforcing agencies must also be strengthened to deal with the problem.
Mr Daniel Batidam, Executive Secretary of GII, cited a recent Public Expenditure Tracking Survey and said 80 percent of budgetary resources for the district assemblies are dislocated, misapplied and diverted.
"This means that district assemblies receive only 20 percent of their budgetary allocations," he said and described the finding as serious indictment on the country's decentralisation programme.
Mr Batidam said corruption at the local government level should be managed and contained so as not minimise its effect on the poverty reduction strategy and the millennium development goals. "Corruption is the most decentralised phenomena in the country," he held.
Mr Batidam said GII's main concern was to eliminate corruption and entrench democracy and good governance, and not to fight the ruling the party in power.
He said corruption has developed beyond morality and has become an economic problem because people steal from offices in order to satisfy their basic needs.
"Society seems to have accepted corruption instead of demanding accountability from politicians and those in authority," he said and expressed worry that the situation was becoming an obstacle to the country's fledgling democracy.
Mr Kwaku Baa Owusu, Regional Director of NCCE, corruption was not found only in the political arena. However, politicians use power to cheat ordinary people and the media is influenced to pursue certain agenda, he held.
"The issue of integrity affects all, including medical practice, the Judiciary and Chieftaincy," he said.
Mr Owusu called on the society to live up to its responsibility of ensuring that everybody, "from the President to the lowest citizen," adheres to the laws against corruption.