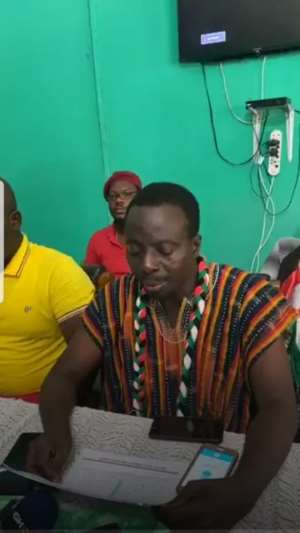 Good morning to you all, distinguished ladies and gentlemen. On behalf of the National Democratic Congress, I welcome you all and thank you for honouring this invitation at a very short notice despite your busy schedules.
Permit me to begin with a quote from the first president of the Republic of Ghana, Osagyefo Dr Kwame Nkrumah "Ghanaians are not timid people as has been suggested in the foreign press. Far from it. They may be slow to anger, and may take time to organize and act. But once they are ready, they strike, and strike hard. It pays no one to tamper with Ghanaians' freedom and dignity".
It is regrettable and very disappointing, the spate of development or lack of it in the Agona West Constituency since the NPP took over the reigns of government. It is very much like a constituency outside the shores of Ghana.
It is for these reasons that the concerned drivers after going through all the due process of the law in line with the Public Order Act (Act 491) of 1994 decided to stage a demonstration having lost faith and trust in the leadership of the member of Parliament (Hon. Cynthia Morrison), the Municipal Chief Executive (Hon. Marigold Hassan) and the President of the Republic of Ghana (Nana Akuffo Addo) to deliver the much needed development especially regarding our road network which was being aggressively tackled by the NDC government of John Dramani Mahama after his policy of asphalting all municipal capitals.
Indeed on the 24th September 2016, Agona Swedru began to witness its 20 km of asphalt promised us, and we can say without any fear of contradictions that all the motorable roads in Agona Swedru in particular and Agona West in general are legacies of the NDC bequeathed to Agonaman among many other infrastructural projects.
It is important to mention the following roads that were successfully asphalted;
1. Assisim
2. Otabilkrom
3. 99 junction to Mandela
4. Police Charge Office to Abosso
5. Nkubease/Ankyease
6. Wawase
7. Major Sam By-pass to Nkubem.
Besides the Swedru Asphaltic overlay, other important roads which were completed under Ex-Prez. John Dramani Mahama includes;
I. Mensakrom junction to Agona Nyarkrom
II. Agona Nyarkrom to Nkum
III. Nyarkrom to Kwaman
IV. Kwaman to Bobikuma
Work was progressing steadily on Swedru-Bawjiase road until the super incompetent Nana Addo's Government took over and stopped all works with the most flippant of excuses of auditing of which the report is yet to be published almost 3yrs now.
Ladies and Gentlemen, the people in Agonaman have complained and lamented bitterly but to no avail. It is upon the failure of the President Akufo Addo's Government which led to the cry of Agonaman, that necessitated our concentration and Trotro/Taxi drivers who suffered the most to legally register their displeasure on Monday 4th November, 2019 Demonstration.
It is important to avert our minds to the laws of Ghana, and use same to assess the actions of the government and the Police Service in this whole matter. Article 21(1)(d) of the 1992 Constitution of Ghana provides that "All persons shall have the right to freedom of assembly including freedom to take part in processions and demonstrations". This is an essential prerequisite to the realization of true democracy.
The right to protest allows individuals to unite in support of a common belief to express their opinion and frustrations to the government or the appropriate authorities. It is essential for the existence and growth of democratic systems of government, and that the right to assembly, to march or demonstrate and express opinion on national issues such as the deterioration of roads in Agona Swedru must be encouraged and protected. Aside from the 1992 Constitution of Ghana, this right is also enshrined in the United Nations Charter on Human Rights, The Universal Declaration of Human Rights (Article 20(1)) as well as The African Charter on Human and People' Rights (Article 71) to which Ghana is a proud signatory.
Therefore, we want to make it so clear that the arrest of the 32 peaceful demonstrators is highly uncalled for, it is dictatorial and in sharp contrast with our democratic systems of which our president of the Republic (Nana Akuffo Addo) claims to be upholding to those democratic principles. As we speak, these 32 innocents members include passers-by are on remand at various cells. We are reliably informed that 3 young men sustained various injuries from rubber bullets fired by the Police Officers.
Our heartfelt prayer goes out to these young men and their families.
It was realized that the Police Re-inforcement were ordered from above (whatever that means) to effect such undemocratic arrest, since the demonstration was not in any way or form against the public safety, public order or public health but rather to avert the mind of government to our deplorable roads.
As indicated earlier the previous government (NDC) started asphalting our town roads but could not complete. Thus, it is expected that the NPP government shall reasonably complete the roads for us.
It is important to note that the demonstration was highly non-partisan, therefore, right-thinking people of Agonaman embarked on such a peaceful demonstration.
We want to emphasize that the actions and conducts of government and the Police Service in this matter clearly amount to;
1. Abuse of power
2. Violation of the rights of those 32 peaceful demonstrators that have been arrested and remanded.
Therefore, the government and the Police as early as possible should release these 32 peaceful demonstrators to their families now.
Thank you.
Signed,
EMMANUEL KORLEY
Constituency Secretary