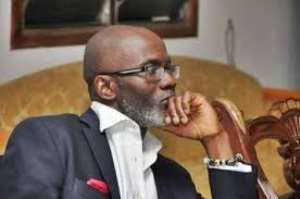 Special Aide to Gabby Otchere Darko, a power broker in the ruling New Patriotic Party (NPP) has threatened to file a defamatory suit against Communications Officer of the National Democratic Congress (NDC), Sammy Gyamfi.
This is because his boss, Gabby Asare Otchere-Darko demanding an unqualified apology and a retraction from Sammy Gyamfi for allegedly making derogatory statements against him.
Aide to Gabby, Nana Obiri Yeboah disclosed in an interview with Citi News.
This was after Sammy Gyamfi accused the Akufo-Addo government at the sixth edition of the "Moment of Truth" press confab that President Akufo-Addo is running his government as if his house with appointees made up of 51 family and friends.
His statements captured Gabby Otchere Darko, as the President's nephew who Sammy Gyamfi claims is the De-Facto Prime Minister in the Akufo-Addo government.
According to the aide, the information is inaccurately factual hence his boss is demanding an unqualified apology from Sammy Gyamfi.
He stated that Gabby Otchere Darko is not a government official and that failure to render the apology will resort to court action.
"I am calling on Sammy Gyamfi to come out boldly and retract that statement and render an unqualified apology for that matter. As an astute lawyer who is a private legal practitioner and not a member of the government to come out and apologize to Gabby Otchere-Darko- Failure to comply to that, I will sue Mr. Gyamfi and face him at the law court for him to come and give a justification of any evidence on that matter. He should come and prove further and better particulars of any evidence that he has against Gabby Otchere Darko of being a member of the government," he stated.
Meanwhile, the NPP prior to coming into office accused the erstwhile Mahama administration, citing Ibrahim Mahama brother of former President Mahama as an example.
He during the 2016 campaign vowed to the people of Ghana not to govern with family and friends.
However, the opposition argued that the President has acted contrary to his promise, with claims that the current government constitutes over 50 members directly related to President Akufo-Addo.
Effects of this, the party has attributed to what is described as "high level of corruption" in the country.