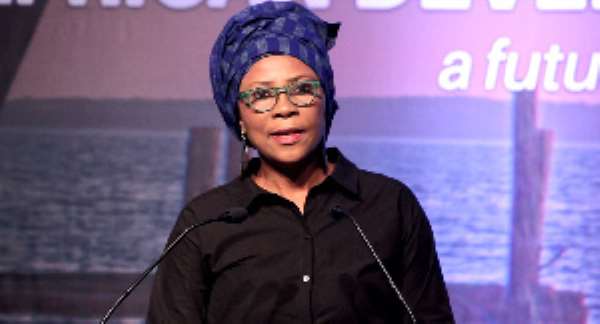 Madam Ahunna Eziakonwa, Assistant Secretary General and Director, Regional Bureau for Africa, UNDP
Madam Ahunna Eziakonwa, Assistant Secretary-General, and Director, Regional Bureau for Africa, UNDP, has stated that Africa's wealth of natural resources must become true national assets; benefiting all and not just a few.
She said Africa must focus its attention on enhancing natural resource governance, rebalancing related values-chains, using smart technology, and anchoring natural resource use on principles and practices that are environmentally sound.
She made known of this at the UNDP high -level dialogue on Thursday, 7th November, Accra, which was organized by the United Nations Development Programme (UNDP) in collaboration with the Government of Ghana on the theme: "Africa's Money for African Development: A Future beyond Aid".
Adding that, a future of Africa beyond aid was not a far-fetched notion "since the mid-1990s, aid has fallen as a share of Gross National Income across Africa, from 6.5 percent in 1994 to 3.0 percent in 2017."
Madam Eziakonwa noted that at the same time, African countries were doing much more to enhance domestic resource mobilization and foreign direct investment.
The UNPD high-level dialogue Which aimed to support leadership about Africa's development brought together African influencers seeking to explore how Africa can optimize the use of its own resources, creativity, and innovation to effectively finance Africa's development.
Dr Oyo Nyimba Kabamba Iguru Rukidi IV, King of Tooro Kingdom in Uganda, speaking at the event called for the involvement of chiefs in the implementation of Africa beyond aid agenda.
He said the presence of traditional leaders and cultural institutions in the drive to build a new future for the continent was both necessary and invaluable.
According to him, chiefs and cultural leaders in Africa, play a unifying role among the people across kingdoms and chiefdoms and were seen as a bonding factor in the socio-economic development of their nations.
King Rukidi IV said cultural institutions had stood above partisan politics and had created an enduring bond and love among the people.
"Cultural institutions are also repositories of tradition and continuity in these ever-changing and evolving times," he said.
Some speakers at the event were Tony Elumelu; Founder of the Tony Elumelu Foundation, Dr Eleni Gabre-Madhin; former CEO of the Ethiopia Commodity Exchange, Samba Bathily; Chairman of Africa Development Solutions Group, Professor Benedict Oramah; President of Afreximbank, Temitope Shonubi; Executive Director of the Sahara Group and Micheal Ansah; CEO of the Ghana Integrated Aluminum Development Corporation.