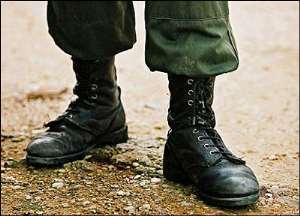 ... all its branches have been affected The Ghana Armed Forces says the string of resignations that have hit the service is not limited to the Air Force.
Officials at the military command say other units of the service are also suffering from the brain drain.
A report carried by the Enquirer newspaper on Monday says officers of the Air Force who benefit from expensive training programmes in the United States of America and elsewhere quit the service for greener pastures thereafter.
The report says up to $70,000 is spent on the training of each pilot.
The Director of Public Relations of the Armed Forces, Colonel E. W. K. Nibo who confirmed the situation, told an Accra-based radio station -JOYFM - that the Air Force is the hardest hit because of the influx of private airlines.
Colonel Nibo says the military hierarchy is concerned about the situation and is currently holding discussions on how best to reverse the trend. But he declined to disclose what the measures are.
The Colonel says although the military will not stand in the way of anybody who wishes to leave the service, those who have the desire to do so must comply with the military regulations.
He however assures that the situation is not as alarming as the paper puts it.