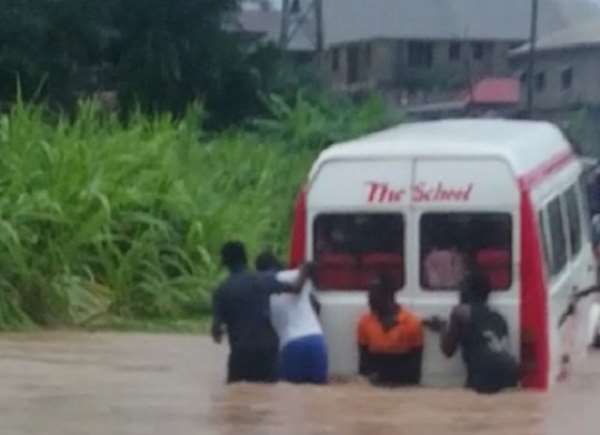 A trapped bus being pushed through the floods
Frequent floods are posing serious threats to the lives and properties of residents of Kenyase, near Kumasi.
A bridge linking Kenyase with Mamponteng and other towns always submerges whenever it rains, thereby, creating inconveniences for residents of the area.
Recently, the bridge submerged after a river overflowed its banks, causing severe discomfort to residents.
Several vehicles with many people on board were seen parked close to the submerged bridge for hours.
A vehicle which was being boarded by some pupils stuck midstream and it took the intervention of some energetic boys before the trapped vehicle could be pushed to safety to save the lives of the kids.
Some of the residents accused the MP and DCE in the area of not doing enough to help the situation. They disclosed that the bridge always get flooded whenever it rains, but unfortunately nobody seems to care about the situation.
According to the residents, they would not vote in election 2020 if the concerned authorities fail to construct a new bridge.
They mentioned Adwumamu, Nkenkenso and Sisrase as some of the affected areas whenever there are floods in the area.
---Daily Guide