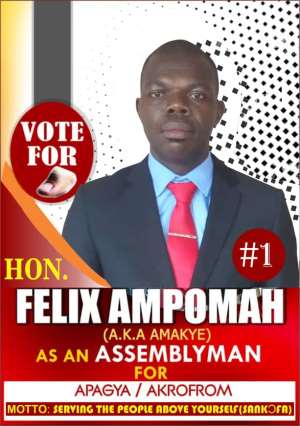 An Aspiring Assembly Member for Apagya Electoral Area in the Afigya Kwabre South District, Ashanti region, has touted himself to perform far better than his DCE if given the mandate to serve his electoral area.
Speaking at a campaign gathering, Mr. Felix Ampomah (a.k.a Amakye) disclosed that, before he lost the position of Assemblyman to the current Assemblymember of the area, he had successfully worked to occupy the position of a Presiding Member (PM) in his fourth tenure.
Unfortunately, he lost his assembly member position to the incumbent. This he said was the reason why the electoral area couldn't enjoy much of his good leadership for the 12 years he was Assemblyman for the area.
However, he was of the firm belief that given another chance to come back as an Assemblymember, he would work for good and ensure that he rises to the position of the presiding member.
Hon. Felix Ampomah also emphasized that he was particularly displeased with the very deficient leadership exhibited by the DCE of Afigya Kwabre South District, Hon. Adu Poku Christian. He added that, given the mandate to serve the electoral area, he will even do better off than the DCE regardless of all the resources that may be at the disposal of the DCE.
Asked by a member of the electoral area why he Hon. Felix Ampomah refused to heed to his political party's advice to rescind his decision to contest, he explained that the party officers of the New Patriotic Party in the Afigya Kwabre South Constituency do not own him neither is he vying for their positions so their advice was nothing to consider.
He maintained that the only people who have the right to comment on his contest will be the electorates and that will be decided on 17th December 2019.
He also entreated members of the community who were at the gathering to disregard any news going round that Immigration Officers cannot contest elections to the district assembly.
Hon. Felix Ampomah (a.k.a Amakye) is an Officer of the Ghana Immigration Service in Accra. He served as Assembly Member for the Apagya-Akrofrom Electoral Area in the Afigya Kwabre South District for three (3) consecutive times until he lost the seat in 2015. He is coming back with the motto "Sankofa Na Yenim Fere Tete".