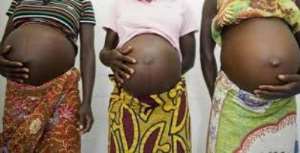 It is quite late, but "better late than never", and I keep on asking myself, what constitutes a Ghanaian culture? Are some cultural practices un-Ghanaian....?
Just asking few but is very annoying to hear the recent revelations from the Upper West Regional Girl's Education officer of GES that, over two decades, no girl-child has ever completed Sowoubea JHS in the Wa East district. The officer went further to point out that, the highest educational level of every girl child in that district was to get to JHS 2 before being sent off to married. Another shocking revelation is that, in just 9 months, the Upper West region has recorded 390 teenage pregnancies, quite a worrying situation.
As I don't want to exhibit my ignorance on child right in the constitution, I think the Ministry of Gender, Children and Social Protection can do better with the released uninspired statistics, indeed not romantic enough, by GES that puts Sawoubea JHS in a different perspective.
When did the society accept this; that it is a normal Ghanaian practice, more or less a culture for grownup men to have sex with 12,13,14,15 and 16 year-old girls who are fit to be their daughters and grand-daughters?
There is a saying that goes, "Our making unnecessary noise, produce heat but talking to each other will definitely produce light", with this, I have now realise that, some of our opinion leaders and attention seekers make noise, just to pollute and produce unnecessary 'heat' in the system.
It is unfortunate that this issue will never occupy the front pages of our national news papers and I always ask myself the kind of journalism we are practising in this country. When did the exhibition of cerebral limitations, where the sense of critical thinking has lost it pivot, became a norm in our media landscape?
These self acclaimed opinion leaders were so loud in telling us what was not Ghanaian and should therefore not be tolerated in schools, but forgetting that, one of their own is been taking away from classroom all in the name of marriage. And I ask them, is this tolerable and Ghanaian?
The dog will never rest, until the girl child sees the light, taste the sweetness in JHS and BECE. But I keep on asking myself, where are our human rights activists who made noise and succeeded in polluting the air during the time of CSE and sex for grade?
Where are the self acclaimed social analysts who only jeer issues which only satisfy their prons and cons? Is it about hypocrisy or lack of understanding of the situation? Maybe, they have lost their research materials or have no lense to read further....
The level of silence is very worrying.
By: Adjei Boakye Benjamin
(0552905813)
Philip K. Amoah
In coming Assembly
Asuoyeboah South
(0554884535)
# Youth Connekt Ghana
# Shaun Consult
# They must see the light