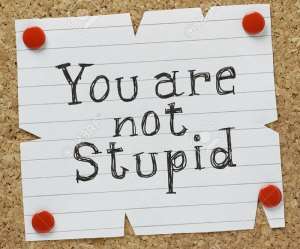 For one not to be seen and considered as stupid, the person must be seen to subscribe to certain personal and societal dos and don'ts. Taking ourselves as corporate Ghanaians with aspirations to see our country prosper socio-economically to alleviate our socio-economic, security and safety problems, to not only bring broad smiles on our face but also, make us proud, we should morally, physically and legally stick to certain agreed principles. Thus, we have to put ethics at the heart of everything we do.
As citizens of Ghana and human beings of a democratic country, so to speak, the constitution has been crafted in such a way as to give us the enjoyment of human rights, freedoms and universal adult suffrage. It obliges the government of the country to provide certain services and amenities of necessity for the people.
Enjoyment of freedoms comes with responsibilities. As the government provides essential developments, gives the people jobs, guarantees their security and safety etc., the people enjoying such facilities have the obligation to reciprocate the usage of such provisions by shouldering certain responsibilities.
When you are offered a job, the employer must pay you for your services. You, as an employee, must respect the terms of your contract. By so doing, mutual benefits will be yielded to both the employer and the employee. To deviate from the terms of the contract to do something else, may bring about acrimony.
Imagine a police officer employed by the government and paid with taxpayers' money to enforce the laws of the land to ensure the people's safety and security, turned into an armed robber, bribe taker, abuser of the people and the very laws he is to protect. Take a police officer on the road assigned to ensure that motorists have genuine driver's licence, drive vehicles that are in good road-safety conditions, respect the road codes, all for the safety of commuters, ends up overlooking his basic duties to rather accept bribes to let pass under the carpet any such faults found with any motorist. Such overlooked faults often culminate in fatal road accidents. Will you be happy with such a police officer? If no, what will you do, my fellow Ghanaian?
A lawyer's services are sought to defend their client. And, by the ethics of their profession, they are to perform their duties in honesty, going by the applicable laws. A judge is employed and paid by the government to deliver justice to the people. He swears an oath of office to be fair to all in discharge of his duties, irrespective of one's social status in the society. However, here in Ghana, we find judges who intentionally, absurdly repeatedly postpone cases brought before them for justice to be delivered. We see judges taking bribes to sell justice to the highest bidder who otherwise may be the guilty party if the facts, available permissible, acceptable, and credible evidence were used. Is such a judge doing the right thing? Is such a judge worthy of your respect? Should such a judge continue to be in the service of administering justice? No!
Assuming a traditional leader whose role is to unite his subjects, ensure that peace and justice prevails among them to let all of them live in harmony for their common good and the good of their locality, turns out to be a crook. He sells all the lands in the area, pockets the money without using any fraction of the proceeds from such sales to realise projects of common interest to the subjects. He is not fair. He reaps from where he has not sown. He thinks he was born, coming into the world, with tracts of land and wealth attached to his belly button so he has the right to do as he likes when he likes. Will you like such a rogue chief or King?
Again, some people have chosen to acquire easy money by not wiping off any sweat from their foreheads. They have chosen to become armed robbers. They want to kill to dispossess hardworking individuals of their hard-earned money or property. Their activities are contrary to the requirements of the law and morality. Fellow Ghanaian, will you be comfortable having such a lazy good-for-nothing killer hanging around you?
Additionally, Ghana factually abounds in quack prophets, pastors, imams and fetish priests. They claim to be able to perform miracles to cause fertility to barren people. They claim to have the ability to resurrect people. They claim to help people get rich while they in turn can only make themselves rich duping those who consult them. Some pastors are alleged to kill people by burying them alive with intent to get a larger congregation thereby acquiring greater wealth and fame. Fellow Ghanaian, is that the godly calling of such pastors, prophets, imams etc.?
Last but not the least, our elected leaders, politicians and civil service heads are worse than thieves. They embezzle public funds and State assets with impunity. Their actions have reduced the Ghanaian to a bagful of nonentity and an object of ridicule in the eyes of our markedly civilized White contemporaries. They believe that once elected or appointed into office, they have been given licence or warranty to steal and to see all others as underdogs.
From the few said, what are your dos and don'ts, oh fellow Ghanaian who by your actions and inactions have reduced yourself to a subhuman only worth of being fed plastic rice, plastic fish, contaminated food and fake drugs by certain advanced people on course to exterminate you from the surface of the earth? Have you not got brains to think? Don't you have even a limited foresight to apprehend the dangerous future ahead of you if you chose to do nothing about it today?
I am not stupid so I am sensitizing you to the dangers confronting us as a nation and a people if we did nothing to avert them. Be not stupid to join my calling for unity to fight those who by their roguish thievery and callousness have reduced Ghanaians to objects of laughter.
If you kowtow to those who have exploited you to acquire their riches to lord themselves over you, I am afraid, you are STUPID! If you listen to the politicians playing on your intelligence telling you that going to school, or having access to the free Senior High School, is not good, whereas they themselves had availed themselves of that facility, then I am sorry to say, you are STUPID! If you sell your conscience or vote to a politician for a pittance, and become their lapdog, I am afraid you are STUPID! However, if you do the things required of you legally to advance the noble emancipatory cause to see the Ghanaian, the African, or Black man, as a human being born with senses, then I salute you, oh fellow Ghanaian.
Lest I forget, journalists are by the ethics of their profession obliged to tell the truth and inform the public exactly of all that is happening as they become aware of. Nevertheless, in today's Ghana, some journalists by the love of quick buck, their political persuasions and other sorts of nonsensicalities, they have chosen to be corrupt and liars to lead many Ghanaians astray. Shame on them and may they perish with their lies!
Let us unite to wage a war on all those trying to make us fools by their commissions and omissions!
I dedicate this publication to the memory of the late Opanin Ezekiel Kwame Basoah and Madam Yaa Serwaah a.k.a Awo Serwaah from Kumawu and Juaben-Ashanti, respectively. Still remembering my Tweneboa Kodua Secondary School (T. K. S. S) classmate Hannah Bonsu. I salute you, my K. T. S. S. schoolmate Yaw Poulous, the slim fit (skin tight) suit and shirt lover.
See you later, my fellow Ghanaian.
Rockson Adofo
Sunday, 3 November 2019