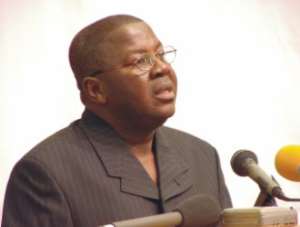 Klefe-Achiatime (V/R), March 11, GNA- The Vice President Alhaji Aliu Mahama at the weekend announced a one-billion cedi financial package to reduce youth unemployment during the 2006 fiscal year. The package, which is under the Youth Employment Programme (YEP) launched by the President John Agyekum Kufuor, would provide apprenticeship to the beneficiaries in the informal sector such as Information, Communication Technology (ICT) and Agriculture. Vice President Alhaji Mahama said this when he interacted with the chiefs and people of Klefe Achiatime in the Ho Municipality as part of his official tour of the Volta Region.
He said the programme was part of the government's poverty alleviation drive which covered a number of sectors, including education, health and agriculture.
Vice President Alhaji Mahama noted that poverty was no respecter of persons or political colour, hence the need for all to embrace any government that was committed to facilitating national development. As part of his tour, the Vice President on Saturday met with the Agbogbomefia, Togbe Afede XIV Paramount Chief of the Asogli State and his elders in Ho where the Vice President announced a 20-billion-cedi facility to improve on the Ho township roads this year.
He also addressed a mini rally at Kpetoe in the Adaklu-Anyigbe District and asked the people to appreciate government's intervention in education.
Vice President Alhaji Mahama called on the people of the district to be united for accelerated growth having gone over the struggle over the siting of the district capital. He announced a small loan facility for peasant farmers and the improvement of roads and other basic infrastructure in the district. Togbe Afele Dzaga X, Paramount Chief of Klefe Traditional Area, appealed to the government to extend the rehabilitation works on Ho-Klefe road to include Akrofu-Sokode.