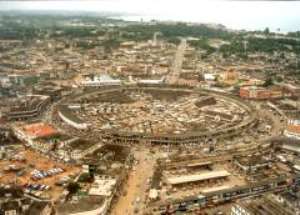 Takoradi, March 11,- GNA - Assembly members of the Takoradi Sub-Metropolitan Assembly have expressed disgust at the poor conditions under which they operate.
They said, apart from the small conference room, which accommodates 16 members, the staff offices, windows, places of convenience and general environmental sanitation of the area, which is in the middle of Takoradi, is unsightly.
The assembly members said these at a meeting of the sub-metro to assess their performance and working conditions at Takoradi on Friday. They said the Shama Ahanta East Metropolitan Assembly under which they operate, had failed to keep its own surroundings clean, yet it continually arrested and prosecuted others for flouting environmental sanitation rules of the assembly.
Apart from missing louver blades, creaking doors, the building leaked while the main septic tank had over-flown and runs into the main drainage.
The assembly members threatened that if SAEMA failed to rehabilitate the buildings and improve the general conditions of the Takoradi Sub-metro, they would take legal action against it. They said staff stationed at the Takoradi Sub-metro had become redundant because all the major duties assigned them such as the collection and issuance of dog, bicycle and drinking bar operating licenses had been taken over by the Sekondi Sub-Metro. The assembly members said the sub-metro has neither a typewriter nor a computer and the personnel must either travel to Sekondi for such services to be rendered or they resort to communication and business centres nearby.
They therefore called on the Minister of Local Government and Rural Development to strengthen the sub-metros to make it less dependent on the main assembly.
They said, without it the sub-metros would not function and the decentralisation policy would become useless. Mr. Yaw Amponsah-Ababio, Chairman of the Takoradi Sub-metro said the concerns of the assembly members had been reported to the main assembly, but for the past five years, nothing positive had been done. He said the present situation at the Takoradi sub-metro was stressful, discouraging, dehumanising and retards productivity. They later toured some communities, which needed streetlights, storm drains and the removal of unauthorised structures. 11 March 06