Aster RV Hospital Organized Health Awareness Talk On Preventing Stroke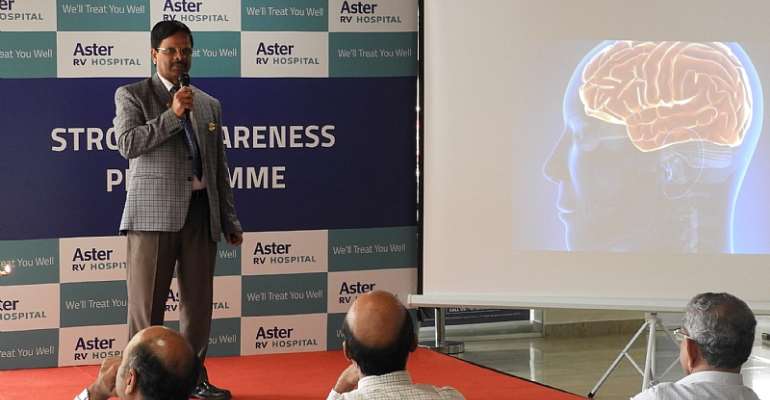 In a bid to commemorate the world stroke day and to spread awareness on stroke and its preventability, Aster R V Hospital, J P Nagar organised a health talk on Stroke Awareness. The theme for the health talk was 'stroke is preventable' which was delivered by Dr. Sreekanta Swamy, Lead Consultant Neurology, Aster RV Hospital.
Around 180 people were participated in awareness program. Hospital also conducted fun games and Q&As related to stroke during the session with some goodies being handed over the attendees post the event.
Dr. Sreekanta Swamy, Lead Consultant Neurology, Aster RV Hospital, said, "We are pleased to witness huge participation. Stroke is becoming a worldwide epidemic, there is still not enough information and awareness about it. It is important to recognize the symptoms of stroke. Mostly stroke occurs suddenly and many people fail to recognize it as stroke which leads to delay in treatment. Stroke prevention can start from today. Stroke can occur at any age owing to various causes in the current lifestyle. Be prepared. Take care of your mind and body. About 15-20% stroke takes place among people below the age of 40 years but the stroke frequency increases steadily after the age of 60 years and maximum incidences are in the age group of 80 years.
REMEMBER STROKE IS NOW TREATABLE AND PREVENTABLE.
About Aster DM Healthcare
Aster DM Healthcare Limited is one of the largest private healthcare service providers operating in multiple GCC states and is an emerging healthcare player in India. With an inherent emphasis on clinical excellence the Company is one of the few entities in the world with a strong presence across primary, secondary, tertiary and quaternary healthcare through its 25 hospitals, 116 clinics and 219 pharmacies. These are manned by our 18,700+ employees from across the geographies that we are present in, delivering on a simple yet strong promise to its people: "We'll treat you well." We reach out to all economic segments in the GCC states through our differentiated healthcare services across the "Aster", "Medcare" and "Access" brands.