Tourism Ministry Holds Creative Industry Forum 2019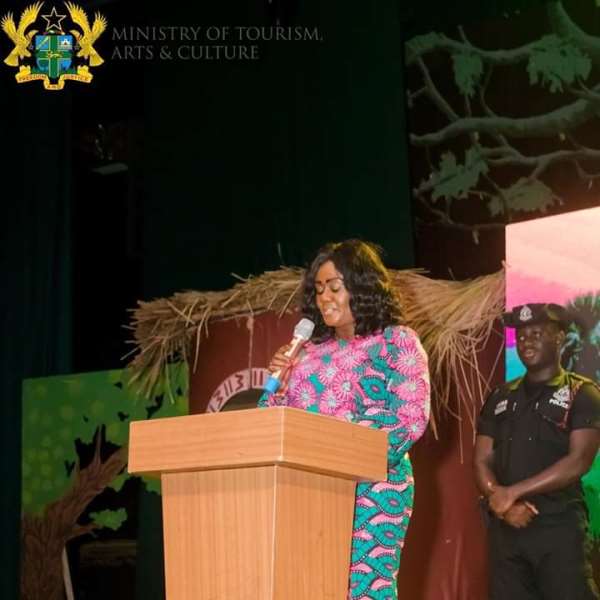 The Ministry of Tourism, Arts and Culture in collaboration with the Creative Arts Council on Wednesday, October 30 organized a Creative industry forum 2019.
The event was under the theme; "Reviving Ghana's Creative Industry".
The Minister of Tourism, Arts and Culture, Hon. Barbara Oteng-Gyasi, who was the guest speaker at the function, lamented the fact that there are about 35 associations and interest groups identified under the Creative Arts Council.
According to her, these fragmented bodies would harm their functions, since most of them appear to be doubling in the same work, as a result, it becomes increasingly difficult for her outfit to properly extend supporting initiatives to all the various fragmented bodies.
She urges the various umbrella bodies to align themselves properly since they become formidable when they are in unison.
The minister who is also the Member of Parliament for the Prestea Huni-valley constituency reiterated that the Creative Arts Council is embarking on a national data collection exercise in consultation with the National Commission on Culture (NCC) and other stakeholders in the creative Arts economy to collate all memberships within the association.
She said, after the exercise, a roadmap has been developed to help guide the team responsible for this activity.
The sector minister implored on the various umbrella unions in the sector to liaise with the Creative Arts Council to be registered for that exercise aimed at improving on their lots, adding that having a fair idea of the various scattered groups and the numbers will enable government plan the necessary support extended to them.
She disclosed that an insurance scheme has also been initiated by her outfit with GLICO to financially reward practitioners in their aged stages in life.
Hon. Barbara Oteng-Gyasi stressed that her priority agenda is to aid President Akufo-Addo's vision in reinvigorating Ghana's Creative Arts Economy for the socio-economic benefit of the practitioners in the industry.
She used the occasion to eulogize a Ghanaian musician in the person of Micheal Owusu- Addo, popularly known as Sarkodie, for his recent exploit in his music career for winning the award of the BEST INTERNATIONAL FLOW AT 2019, BET HIP HOP AWARDS IN THE USA.
Sarkodie was nominated the brand Ambassador for the "Year of Return."
The ''Year of Return'' was proclaimed by President Nana Addo Danquah Akufo-Addo as Ghana commemorates 400 years since the first enslaved Africans arrived in the USA and also celebrates the resilience of the African spirit.