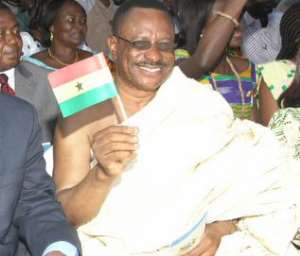 The clean-up exercise embarked upon by the Accra Metropolitan Assembly (AMA) in Accra on March 4 could not have passed without any incidence. In what amounts to nothing but 'an affront,' as AMA personnel will say, the Chief Executive Office of the AMA, Mr Stanley Nii Agyiri Blankson's bid to personally dissipate wares of recalcitrant traders at Agbogbloshie market in Accra during the clean-up exercise was vigorously resisted by a truck pusher – Simon Atongo – in a scuffle that nearly turned to an exchange of fisticuffs.
The truck pusher wittingly or unwittingly had held Mr Agyiri Blankson and pushed him from destroying a box of tomatoes belonging to the Madam and a timely intervention of AMA personnel around prevented what could have been heavy slaps in reprisal by Mr Agyiri Blankson.
The AMA personnel or guards under the behest of Mr. Blankson consequently carted or dragged the truck pusher into one of their Nissan pickup trucks, drilled him and just as they were readying to send him to the Old Fadama police station, some of the market women in a cry of plea begged the AMA boss, who later called for his release.
Addressing the press immediately after the incidence, Mr Nii Agyiri Blankson pointed out that in the initial clean-up exercise in which himself and the Vice President Alhaji Aliu Mahama took part at the Agbogbloshie market, there was clear expression of displeasure at the lukewarm attitude exhibited by most of the cleaners.
He was emphatic in his pronouncement that "for one to look healthy and hygienic in body, it needs to be seen in the surrounding or environment." He deplored the apathy displayed by most of the market women and men at the Agbogbloshie market in partaking in the clean-up exercise.