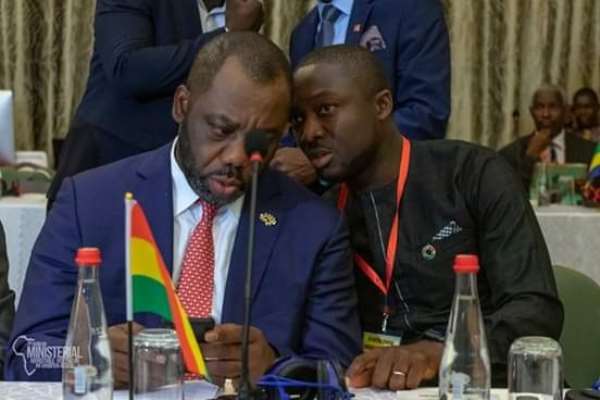 Hayford Siaw whispering to the Education Minister at the conference copy
About $4.2 million has been invested in the Ghana Library Authority(GLA) in 2019 alone.
This is part of the government's commitment towards implementing the 2015 Cape Town Declaration and 2018 Durban Communiqué on promoting the development of libraries as part of the African Union Agenda 2063.
The funds which represent a 180 per cent increase from the previous year's investment figure of US $1.5 million has been committed to initiatives that included the training of 16,311 Ghanaians in Information Communication Technology (ICT) related courses and the construction and renovation of 33 libraries across the country.
The Chief Executive Officer (CEO) of GLA, Hayford Siaw, gave the information when he addressed delegates at the 3rd African Ministerial Roundtable Conference on Information Access.
The two-day conference which hosted participants from 32 African countries was held on Tuesday under the theme: "Libraries on the African Development Agenda: Progress Made".
Mr. Siaw further indicated that the staff strength of the authority had been improved with the recruitment of 121 personnel in 2019 while an additional 70 personnel have received government clearance to be recruited in 2020.
He mentioned that other initiatives that accounted for the investment included training of 600 librarians of school and public libraries, provision of scholarship to 1,000 Ghanaians under an Udemy online programme, acquisition of 120,000 books across library network and establishing nine library footprints across the country.
Going forward, Mr. Siaw disclosed that the authority is planning to establish an oral history centre, pass new Ghana Library bill, establish a purposely built national library as well as develop a reading policy for the country.
"We are going to incorporate public library services into the National Development Plan, automate services of all public and school libraries and automate the issuance of International Standard Book Number (ISBN)," he said.
The Minister of Education, Dr. Matthew Opoku Prempeh said information had become very crucial to every enterprise in life hence its acquisition, storage, dissemination, evaluation and use need to be properly positioned.
Beyond organisation of the deluge of information, the minister described librarians as teachers who assess the literacy level of children by helping to fill the gaps in their reading.
He, therefore, entreated African governments to factor libraries into the development efforts of "building the Africa Africans want" as spelt out in Agenda 2063.
---Daily Guide