Wayo Seini dips hands in MPs coffers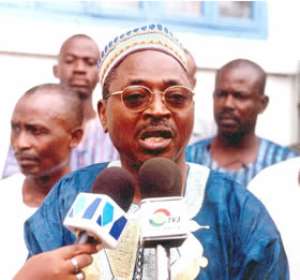 The former Tamale NDC MP, Prof Alhassan Wayo Seini has withdrawn the remaining funds left in a car loan facility designed by the Prudential Bank for MPs to acquire a means of transportation.
According to the paper, shortly after tendering in his resignation letter to Parliament on March 2, 2006, Prof Wayo Seini proceeded to the Ring Road Central branch of the Prudential Bank to claim the rest of his share of the facility.
The facility called 'top-up' is to enable MPs to get additional pay for their vehicles, which in most cases cost more than the loan secured for them by the Parliamentary Service Board.
Unfortunately for the MP, he was turned down at the first attempt as the bank officials were aware of his status and therefore refused to allow him to take the facility to enable him pick his car from Toyota Ghana Limited.
Undeterred by the refusal and determined to access the facility, Prof Wayo Seini managed to get the top-up facility and was able to pick his Nissan Patrol 517 car with registration number NR 3000 X on Tuesday March 7, 2006.
When the paper contacted Prof Wayo Seini he admitted taking the car but asked, " What is wrong with that?"
According to him the car was registered in his name in December last year and therefore did not see anything wrong with him going for it in March.
" It has been registered in my name long ago. Does it matter whether I take it in December or in March?" he asked.
The car, which was registered in the joint names of the MP and Parliament, was supposed to be used by the MP as a means of transport for his official duties.
Explanations sought by the paper from Parliament indicate that when an MP resigned and still wanted to take his official car away, the ideal thing would be for the MP to pay for it upfront.
But in this case, the former MP did not pay upfront. He used the loan acquired by Parliament and Government of Ghana from Stanchart for MPs to acquire the posh Nissan Patrol car.