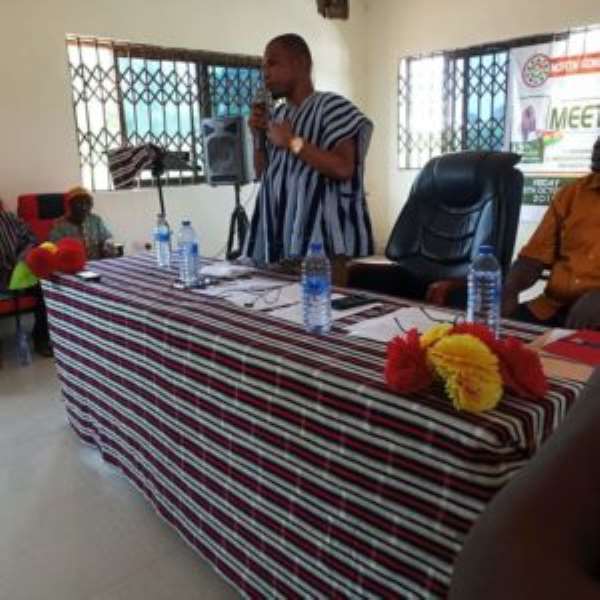 The District Chief Executive (DCE) for the North Gonja district in the Savannah Region, Honourable Adam Eliisu has assured the people of the area the commitment of the government towards fixing the road network in the area.
Speaking at the maiden meet press series held at the North Gonja District Assembly conference hall on Friday 25th October 2019, Honourable Eliisu said the government has repackaged the Daboya-Mankarigu road contract from gravel to bitumen surfacing.
He said in the quest for speedy completion of the project by the government,the road project has been repackaged into 3 lots with 2 lots given to Limerica Ghana Limited who will work on 10km of the road whilst M/S Pascalia Ltd also a road contractor working on another 10km portion of the project.
Hon. Red Bawah as he is popularly called in the area further stated that the Ministry of Roads and Highways is in the process of awarding the lot 3 aspect of the project which is a 60km from Singa to Mankarigu with the entire project expected to be completed in November 2020.
He has also assured the people of the area that the following roads in the district will be completed by the close of the year 2019.
They include Daboya-Bawena road 28.2Km, Lingbinsi- Gurubagu road 25.5KM, Yazori- Kuportor road 16km and Mankargu- Sakpala road 3.5Km.
On security, the DCE said several efforts by the REGSEC chaired by the Savannah Regional Minister has yielded very positive results with the district enjoy relative peace now even though a lasting solution is expected to end all the troubles in the area.
He also talked about the health situation in the district where a number of CHPS are under construction in communities like Yazori, Korportor, Yagbum, Wawato etc.
Under the One Village, One Dam Projects ongoing at the North Gonja district, the Hon. DCE said 6 communities namely Jinfranu,Kpulumbo,Daresalam,Yazori and Kuportor have already had the dams completed and ready to be used for their intended purposes.
He said the educational sector( Daboya Senior High School) in the district has also received a total amount of Two Hundred and Ninety Four Ghana Cedis, Sixty Ghana Pesewas ( GHc 294037.60) from the government over the past 3 years towards the Free Senior High School program.
Hon. Eliasu said the School has a population of 336 and gave a breakdown of the figures of the amount received from the government.
2017 GHc131,886.95
2018 GHc 91,915.13
2019 GHc 70,235.52
Total GHC 294037.60
He further spoke about scholarship packages for some 62 students in the district with the government allocating Ghc72,500 to support the beneficiaries whilst the district assembly also supported some 243 students in the various tertiary institutions across the country with a total amount of Ghc 48,000 through its share of the common fund since 2017.