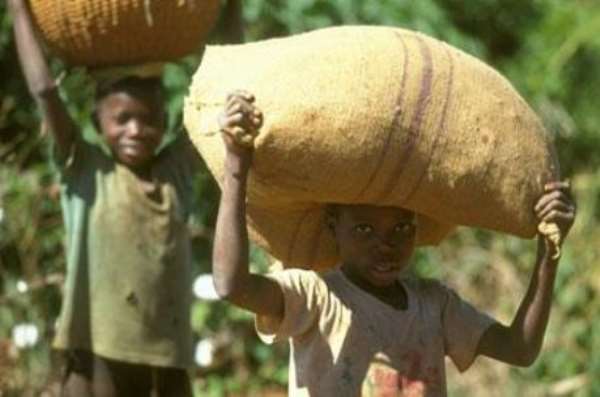 Like a silent cancer that eats up the body slowly, child labour is one of such cancers that consumes the future of many African children. In Ghana alone, about 2million children are affected with child labour with many of them working the areas of agriculture. Stakeholders' especially parents and local level leaders have little or no knowledge of this menace.
Among some of the difficulties that have blinded stakeholders' attention and ability to fight the menace are poverty, cultural and religious practices and illiteracy. Observably, many child labourers are from penniless and vulnerable families and their means for survival lies directly on hard labour activities such as farm, fishing, stone-quarrying and domestic commercial activities. Unfortunately, parently ignorantly involve children in these activities as a means of cheap labour. It is not uncommon to see parents directly or indirectly exploiting their children, using them as collateral labour to borrow money, or trafficking them to urban location with the view of reducing the number of dependents or obtaining financial support from aides.
The use of children in these activities have grave repercussions directly on the child and the long-term development of our nations. Many children from the rural areas of Ghana drop out of school at early ages, with girls recording teenage pregnancies. Some child labourers suffer serious physical abuse, sexual exploitation and abuse, emotional trauma and weak and taunted physical growth. Due to extreme poverty, young teenage girls are given out into marriages and others pushed to commercial sex work or kayaye business.
However, there is hope as some non-governmental organizations are making giant steps to fight the scourge. PLEDGE Ghana and UNICEF are among the leading civil society that is pushing hard to get rid of worst form of child labour in Ghana. As part of efforts to combat worst forms of child labour in the Upper West region, PLEDGE Ghana is distributing educational materials such as school uniforms, books, pens and school bags to affected child labour and needy children who are not regularly school due to the inability to access these basic school item. Presenting the items to the Social Welfare officer, the Director of Programmes at PLEDGE Ghana Mr. Joe N. Nabin indicated, this presentation was part of efforts to curb worst forms of child labour in the upper west region and to ensure children remain in school. He also said, efforts were being made to raise awareness community members especially parents on the effects of child labour, adding some vulnerable parents would receive livelihood support to enable them retain their children in school. The Assistant Social Development Officer of the Department of Social Welfare in the Wa Municipal, Madam Veronica Togbe thanked PLEDGE Ghana and UNICEF for making efforts to support needy children. She said, this donation will go a long way to help the beneficiary children to stay in school and those going into apprenticeship will acquire livelihood trade to enable them become responsible citizens. The presentation ceremony took place on Monday 14th October 2019, at Jonga to symbolically mark the beginning of the distribution of educational items, personal protective gears, and apprenticeship tools to child labour beneciaries across 10 communities in MMDAs in the Upper West region.
It is important that other NGOs and civil society join these commendable efforts to reduce child labour in Ghana. The fight against child labour is not a day job, it a long term duty on all duty bearers, to join hand-in-hand in the eliminating worst forms of child labour. We cannot sleep and allow our pots to burn, but must galvanize resources in terms of funding, personnel and logistics to support those willing to penetrate the hard-to-reach communities to carry out serious awareness campaigns and implement poverty-reduction activities so as to reduce the silent disease called child labour. Together, we can achieve the overall national goal set out in the Ghana NPA 2 which is "to reduce the worst forms of child labour to the barest minimum (<10%), by 2021 while laying strong social, policy and institutional foundations for the elimination and prevention of all forms of child labour in the longer term". Ghana will as well be marching towards achieving the global goal (SDG) 8.7: "Take immediate and effective measures to eradicate forced labour and secure the prohibition and elimination of the worst forms of child labour, including recruitment and use of child soldiers, and by 2025 end child labour in all its forms" .
Written by;
ABU IBRAHIM AZEBRE
(A Community Development Professional)
[email protected]
+233 (0) 240393109
30/10/2019